Toxic masculinity and its effects on both men and women are rarely addressed in popular media. There have been a number of movies and TV shows that focus on the men and the toxicity that they share in groups. The majority of them are dramatic works, hence their themes tend to be dark.
In the modern world of "Alpha Males," where men and women are treated equally and discrimination of any kind is not permitted, four middle-aged men are going through a midlife crisis and trying to prove their masculinity. Can they make it in the postmodern world when they've always known men to be the providers for their families?
Alpha Males Season 1: Ending Explained
Did Pedro Girlfriend Leave Him at the End?
 Pedro, played by Fernando Gil, is a perfect example of a toxic alpha man who thinks it's a shame to work with or for women. When Pedro loses his job and is replaced with a female CEO, he becomes completely insane. He is concerned about his financial stability after purchasing a large home.
Fortunately, his girlfriend encourages him to pursue a career as a content creator and social media influencer so that the two of them may establish a secure financial footing. Meanwhile, Pedro is offered employment but turns it down because the team is led by women.
Whatever the case may be, Pedro eventually follows in his girlfriend's footsteps and begins uploading films that celebrate toxic masculinity. After Pedro goes viral, his girlfriend's star status drops. She finally decides to stop her relationship with Pedro.
Also Read: West Wing Season 7 Episode 22 Explained! Know the Ending Here!
What Happened to Santi in Alpha Males?
Santi played by Gorka Otxoa, the group's nave beta male, is divorced from a wife who appears to despise him with a passion. They have joint legal custody of their sixteen-year-old daughter, who has chosen to live with Santi over her mother's objections. She also begins using Tinder to set up dates for Santi, convinced that her father needs to have sexual encounters with other women in order to move on from her mother.
Santi goes on a number of dates, each of which increases the tension in his life. Santi is too stressed out to date again, but he follows his daughter's example and begins seeing and sexually engaging with a number of women. He meets one who is looking for a long-term relationship with him, but he doesn't feel there's enough spark between them.
She goes completely insane once he ends their relationship. Later, Santi gets a call from his ex-wife, and he goes to assist her. As was to be expected, they consummate their relationship with sexual activity. The daughter of Santi is quite critical of everything.
Does Luz Leave Raul After Finding the Truth?
Raul  runs a successful eatery and is committed to his long-term relationship with Luz, a successful attorney. Raul, however, has been secretly having sexual relations with his business partner named Carmen for nearly two years. Luz suggests an open relationship to keep the passion alive, but Raul isn't interested in sharing her with anyone else before he proposes marriage.
Raul agrees to go to Amsterdam with Luz when she gets a promotion and wins him over with promises of a new life. He decides to accept, but is concerned that he won't see his pals again. Ultimately, Luz tells Raul that they aren't going, and everything seems to work out fine.
But then Raul gets a call from Carmen, and the next time they have sex, she uses her phone to make a video call, which Raul then shares with his restaurant partner. When Luz learns that Raul is no longer with her, she leaves him and he moves in with Pedro at his large home, where he finds himself in the company of another man whose wife has also left him.
Must Read: "The Witcher: Blood Origin" Ending Explained! Full Story in Short
Overview of Alpha Males Season 1
At a toxic masculinity lecture, three of the four best friends—Santi, Luis, and Pedro—call themselves sexists. Raul, the fourth friend, hesitates and departs. Six months before this class, Pedro's supervisor removes him from a television network and replaces him with a woman, which Pedro doesn't like.
He also bought a luxurious property, which troubles him as he tries to organise his life. After Pedro's termination, Daniela begins preparing how to maintain their family. She becomes a social media influencer. Pedro continuously criticises her new adventures.
Raul finally commits. He's been cheating on Luz with Carmen, his coworker's wife. He wants to marry Luz and break up with Carmen. When Luz unexpectedly proposes an open relationship, things go awry. Raul backs out of proposing and is unhappy with her sleeping with other men. He agrees with conditions.
Alex, Santi's daughter, crashes in his flat, claiming she hates her mother and Blanca, Santi's ex-wife. She now lives with him. While there, she tries to get her father on Tinder and helps him locate the best dates, thinking he can finally move on from Blanca. Santi dates modernly. Santi worries about his daughter, who is exploring her sexuality with multiple partners.
Recommended: The Wonder Ending Explained: What Happened With Lib at the End of the Wonder Movie?
Finally, Luis is having trouble becoming intimate with his wife, Esther, who is trying everything to turn him on so they can enjoy bedtime. Daniela's social media popularity overshadows Pedro. She becomes a company ambassador and runs their household.
Raul stalks Luz while she dates different men. She wants to sleep with Raul when he talks about dating. He lies for his girlfriend. Luz immediately detects his falsehoods and says lying is the worst. Raul convinces her he cheated.
After that, the pair escalates their adventures and seeks to engage a third party, which ends badly for both of them. Luz asks if she can break a rule and sleep with a date again. Raul disagrees, believing this is where things get serious.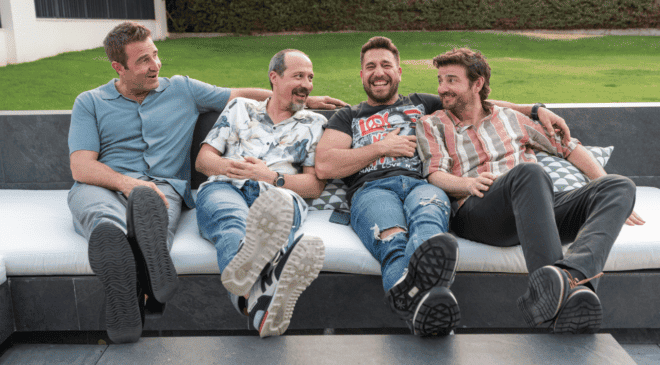 Luis and Esther's romantic attempts continue. Esther meets Guillermo at the gym. He attracts Esther. Esther's acquaintances convince her that she and Luis are doomed since they can't be intimate. Thus, she cannot simply release Guillermo.
Esther agrees and sleeps with Guillermo. Esther keeps this from Luis and admits their relationship is over. When their daughter sees Guillermo on their iPad, Luis discovers Esther's affair.
When Santi repeatedly criticises them for being insensitive, the four best friends comfort one other and enrol in a masculinity deconstruction course. They don't express themselves. They reply that they will quit meeting if one of them softens. They attend this class, where Pedro argues with the host.
Pedro argues for toxic masculinity. He wants to launch a macho guru seminar and convert this into a company. Pedro becomes hated, but he makes money from it. Pedro's presence hurts Daniela's popularity, and even she questions Pedro's beliefs.
Raul, on the other hand, believes Luz is sleeping with Pedro, his best buddy, violating their rule. She merely met him for business. Luz tyres of Raul's insecurity and ends their open relationship.