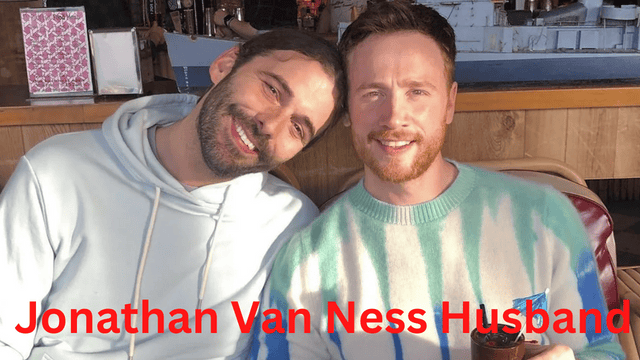 Who is Jonathan Van Ness Husband? & More
Jonathan Van Ness is a hairstylist, activist, and the Queer Eye host on Netflix. During the coronavirus (COVID-19) pandemic, the television personality surprised fans by marrying Mark Peacock. Fans are now curious about JVN's husband.
JVN Early Life
Jonathan Van Ness was born on March 28, 1987, in Quincy, Illinois, as Jonathan McDonald Van Ness. He is the son of Jonathan Lyle Van Ness and Mary Winters and comes from "a family of journalists," according to him.
In Quincy, there weren't many openly gay teenagers, and Jonathan was bullied for his "femininity and natural flamboyance." "Growing up, I definitely put on every nail polish, every heel, every scarf – I definitely had my mom's knockoff Hermès scarves in my hair and around my waist – those were my skirts, and I loved it," Van Ness said.
But when I was younger, I got a lot of femme-shamey, gender-shamey [reactions] when I dressed like that.I knew it had to be… behind closed doors when I was playing with those things." An older boy sexually abused Jonathan at church when he was younger, and he has stated that this led to self-destructive behaviour such as drug abuse and spending time in AOL chat rooms looking for older men for sex.
Related: Is Ryan Seacrest in a Relationship: The Real Story Behind Ryan Seacrest!
Van Ness was the school's first male cheerleader while attending Quincy Senior High School. He went to the University of Arizona on a cheerleading scholarship after high school and majored in political science.
After blowing his monthly allowance on drugs, he began advertising sex for money, and he lost his scholarship as a result of his declining grades. Jonathan dropped out of the University of Arizona after one semester to pursue hairstyling at the Aveda Institute in Minneapolis.
Who is Jonathan Van Ness's Husband?
According to his Instagram, JVN's husband, Mark Peacock, was born in the United Kingdom but once lived in Austin. He is a fitness expert and model on the side. While we don't know how they met, JVN revealed on Instagram that a single date in London turned into several when he was touring for his comedy show in 2019.
After only a few weeks of dating, JVN was ready to introduce Mark to his mother and other members of his family, who were on vacation in Amsterdam at the time.
JVN was initially concerned that he was moving too quickly, but as stated in the Instagram caption, "something about Mark felt different, and I'm quite sure he felt the same." He had to have, because they married the following year in a private ceremony.
Read More: Rick Ross and Pretty Vee Relationship: Her Professional Life and Career!
JVN posted a 2020 recap Instagram post in December 2020, casually mentioning his wedding to Mark earlier that year. They both posted on the same day, which was clearly adorable. "I got married to my best friend [and] have a loving partner to continue building my life with," JVN wrote.
Meanwhile, Mark wrote on Facebook, "I got married to my soulmate and one true love and adopted a little Jack Russell named Pablo and joined a family with four amazing cats."
Jvn Dated Wilco Froneman in 2018
According to cheatsheet, Van Ness began dating Wilco Froneman, a South African native and rugby player for New York's Gotham Nights, in the summer of 2018. Van Ness's relationship with Froneman, like much of his life, was mostly private.
Fans of Van Ness were unaware of their relationship until they attended the Creative Arts Emmys together.
Also Read: Love Island Season 3: Is Chris and Olivia's Relationship Still On?
The two had called it quits by December of the same year. JVN announced their breakup on Instagram, citing Ariana Grande's "Thank U, Next" lyrics in his caption.
He quickly deleted the post, writing on Instagram Stories, "I should've sat with myself a little longer before posting my most recent post." Wilco is a good person, but things don't always go as planned. Please do not attack him on his Facebook page."
'queer Eye' Fans Thought Antoni Porowski Could Be Jonathan Van Ness's Husband
There's no denying Van Ness and his Queer Eye co-star and restauranteur Antoni Porowski have chemistry. For a long time, fans assumed the two were having an affair. On the show, JVN and Porowski would frequently hold hands.
Fans speculated even more about Van Ness and Porowski's potential relationship when they saw them doing press together. Van Ness took to Twitter in July 2019 to discuss his love life, dispelling rumours that he was dating his co-star.