Is American Supermodel Tyra Banks Married?
Tyra Banks was omnipresent after the success of her modelling career and the reality show America's Next Top Model. While Tyra has stayed out of the public eye since giving birth to her son York in 2016, she will soon be hosting a new season of Dancing with the Stars.
American supermodel Tyra Banks is also an entrepreneur, actress, and author. She has an extensive resume from her successful modelling career. The first black woman to grace the covers of GQ and Sports Illustrated's swimsuit editions, she made history with her appearances.
It's only reasonable to speculate about Tyra's whereabouts and activities, especially her romantic status. People are curious to know if Tyra have a husband? Kepp reading to know the complete details.
Is American Supermodel Tyra Banks Married?
Tyra is not currently married to anyone. She has never been married, but she has been in a few significant relationships in the past, and she is now in one of those relationships.
Banks and Asla's co-parenting relationship is still strong despite the fact that she has no plans to get married in the near future. She told Us Weekly that she wants to instil in their son positive attitudes of women and the value of good relationships.
"I'm trying to teach him [positive] messages because I'm his first role model when it comes to beauty and accepting different types of women, so we practice that a lot at home," Banks said. "I'm already saying things to him."
Also Read: Who is American Country Singer Gabby Barrett Married to?
Who is Tyra Banks Currently Dating?
In 2019, the creator of "America's Next Top Model" began a romantic relationship with Louis Bélanger-Martin. Oprah Daily claims that the two started dating in 2018, and that they made their first public appearance together at a movie premiere in January of 2020.
In the year 2020, there were rumours going around that the host of Dancing With the Stars was engaged. During an interview on Tamron Hall's talk show, she promptly shut them down and told the TV personality,  "The press gets it right sometimes, but a lot of times, they're bored," she said.
When she was seen wearing a diamond ring on her ring finger in August 2020, some two years after they had first started dating, rumours began to circulate that they were engaged.
She then clarified that the ring was in the shape of a crab and that she and Louis were wearing all-black sporting gear and black masks when they were caught by paparazzi in Santa Monica, California. She explained to Tamron that the gemstone was an opal and not a diamond, saying that the form resembled that of a crab.  "It's shaped like a crab…and it's an opal, not a diamond," she told Tamron. "It is not a crab opal engagement ring. It is just a ring."
Must Read: Is Josh Groban Married: Who Has He Previously Dated?
Who Has She Previously Dated?
During the early stages of her career, rumours circulated that Tyra was romantically involved with the film director John Singleton. The two got to know each other through common friends and started dating in 1993. Shortly after that, he directed Tyra in her first big-screen role, which was in the film Higher Learning.
In the film, she played a college track star who develops romantic feelings for another athlete. In an article that appeared in People Magazine in 1995, it was revealed that John was not easy on his girlfriend while she was auditioning for the job; nonetheless, he stated that it eventually became obvious that she was suited for the role.
When he was talking to her, he stated, "Usually when you are with a girl, you begin to want to have your own space," he said. "It's not like that with Tyra." 1996 was the year that they parted ways, and regrettably, John passed away in April of 2019.
After that, there were rumours that Tyra had an affair with the musician Seal. Their first public appearance together was on the red carpet at the Essence Awards. During the late 1990s, they both chose to keep a low profile on their relationship; nevertheless, when Seal appeared on Watch What Happens Live with Andy Cohen, he provided fans with some new information about the couple.
When asked if his relationship with Tyra served as inspiration for his album Human Being, he responded, "It wasn't inspired by her but we bump into each other every now and then, there's no drama."
After their brief romance, Tyra moved on to a relationship with Sacramento Kings star Chris Webber, which lasted from 2002 until 2004. The athlete used the word "serious" to describe their relationship in an interview with The New York Times in the year 2002.
The supermodel disclosed that the athlete had cheated on her during an episode of the Tyra Banks Show. The conversation focused on the breakup of her relationship with the athlete.
Recommended: Is Fox News Reporter Emily Compagno Married?
Additionally, she had ties to Wall Street banker John Utendahl, widely considered to be among the most successful in the industry. After dating for close to three years, the secretive couple decided to end their relationship in the early 2010s.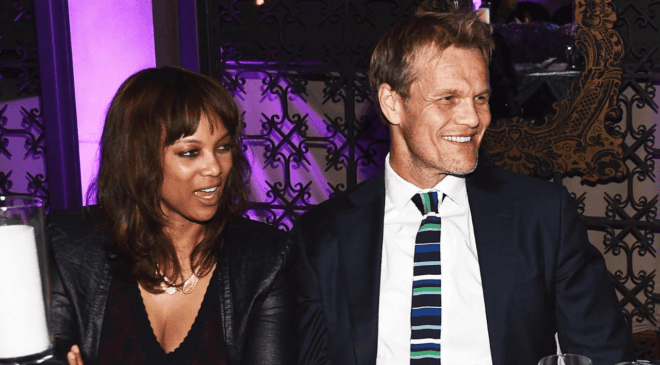 The year 2013 marked the beginning of her relationship with Norwegian photographer Erik Asla. Although there were speculations that the couple might get married, they never actually did so; however, they do have a child together. Surrogacy allowed them to become parents to a son, whom they named York and who arrived in January of 2016. Later, Tyra discussed the challenges she faced in attempting to conceive a child.
She told People, after the birth of her mini-me, that"We are so excited about our new baby boy bundle of joy, the journey to now has not been an easy process, as I've shared before. But there was a beautiful bright light at the end of the tunnel for me and his father, Erik." The next year, in 2017, they decided to end their relationship.