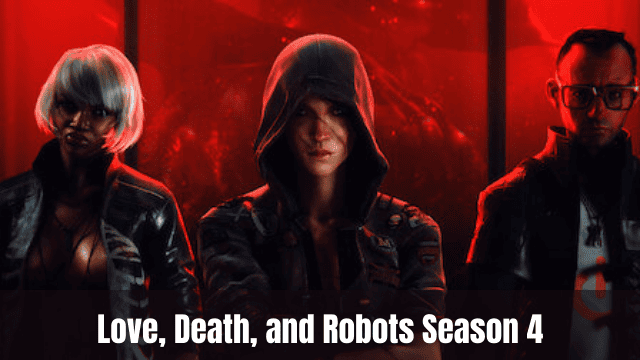 Love, Death, and Robots Season 4: Expected Release Date and Updates!
You've come to the right place because here you'll find everything you need to know about Love, Death, and Robots season 4. You'll find all the answers you need in this article. Read the article below for a lot of information and the latest news about the upcoming season.
About Love and Robots
The adult anthology series Love, Death + Robots, which has won multiple Emmys, explores not only its title ideas but also other deep ideas about what it means to be alive.
It is produced by Tim Miller, Joshua Donen, David Fincher, and Jennifer Miller, and is a re-imagining of Fincher and Miller's long-in-development reboot of the 1981 animated science fiction film Heavy Metal.
We got everything we had hoped for from the show in Season 3. Every episode of Volume 3 had amazing animation and a unique story, but fans definitely liked Jibaro, Swarm, and In Vaulted Halls Entombed the most.
Every single frame of these episodes made us drop our jaws. But the only thing fans didn't like about season 3 was that it was too short. Love, Death, and Robots have set a standard for modern animation, so it makes sense that people want to see more of it.
Has the Love, Death, and Robots season 4 Production started?
It's difficult to fathom a scenario in which Love, Death, and Robots is filming its fourth installment before they've even received word those additional entries have been ordered. There are no updates on the progress of season 4 production as of this writing.
After the program has been officially renewed, a filming schedule will be announced. Until then, the first three seasons are worth revisiting.
Expected Release Date of Love, Death, and Robots Season 4?
At this time, there is no official release date for its fourth installment, which has yet to be revealed. It is, however, not impossible to speculate on when it could return on Netflix.
The first season was released in March 2019, but the next two were released in May 2021 and 2022, respectively. So, if one were to anticipate when season 4 may arrive on the streaming service, it wouldn't be insane to say May 2023, or at the very least the summer and fall of 2023.
Related Topics:-
Is Love, Death, and Robots Season 4 Cancelled?
While the program's supporters are worried that there isn't more information concerning the future of their favorite Netflix show, it should be recognized that it hasn't been canceled yet.
While the future of Love, Death, and Robots season 4 is still up in the air, the fact that it has yet to be canceled is encouraging for those looking for a revival.
Trailer for Love, Death, and Robots Season 4
The Trailer for Love, Death, and Robots Season 4 is not arrived yet, for now, you can watch the final trailer volume 3 below:
 Frequently Asked Questions
Which is the best episode of Love, Death, and Robots?
"Bad Travelling" is the first episode of Love, Death, and Robot's third season that David Fincher directs.
Is Love, Death, and Robots available on Netflix?
Yes, you can watch this series on Netflix.