TikTok 'Tomato Girl' Trend: TikTok has seen the rise of a number of trends in the past year, such as Barbiecore, fairycore, and whimsigoth. As time goes on, TikTok's style has become more and more specific. In the spring, the coastal cowgirl style was the most popular look on the app.
Celebrities like Sydney Sweeney helped make this look famous. As summer comes, it's time to refresh your coastal style by going for the Mediterranean-inspired tomato girl summer look.
The word "tomato girl summer" comes from Megan Thee Stallion's famous song "Hot Girl Summer" and combines it with Gen Z's love for styles that are inspired by specific places and have a lot of small details. Still, it can't be denied that it gives room for questions and guesses.
What is the 'Tomato Girl' Trend on TikTok?
During the spring, the idea of a "tomato girl summer" was all over TikTok in the form of forecasts, inspirations, and mood boards. This trend caught people's attention because it had a unique name and pictures that looked interesting.
People from all over the world can join, but the tomato girl style is heavily influenced by the Mediterranean coast and other places where tomato-based food is popular. Imagine the beautiful Amalfi Gardens, the peaceful beaches of Santorini, and the busy streets of Barcelona.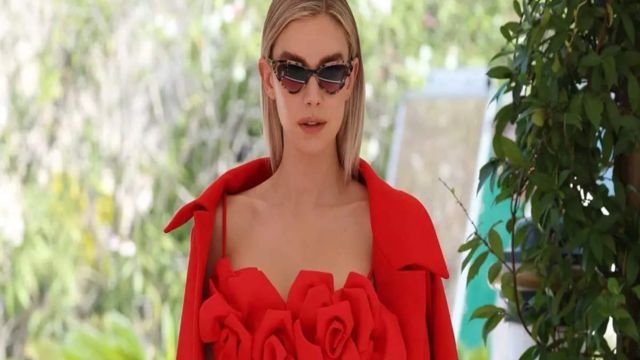 People who like the tomato aesthetic do things like read romance novels in cozy cafes, relax on sandy beaches, or watch the sunset from their own backyard gardens, both in real life and in captivating TikTok videos. This unique and beautiful summer experience captures the heart of the tomato girl summer aesthetic, and people from Crete to Kansas City are drawn to it.
How to Get the 'Tomato Girl' Aesthetic on TikTok?
True to its name, tomato girl summer is mostly made up of bright red colors. Neutral colors, especially white, tan, and black, are used to go with this main color. There are also hints of green that remind you of a yard and blues that remind you of the beach or ceramics.
When it comes to jewelry, warm gold is usually the best choice, but you can also use delicate silver if your TikTok filters have led you to believe that it fits your style better.
Cotton and linen are the most popular choices when it comes to fabrics. Since it's summer and hot, these materials are both useful and relaxing because they are light and airy. Lace and crochet are also often used, which gives the overall look a bit of charm and an indescribable allure.
In terms of silhouettes, it's important to go with the romantic novel idea. Dresses with puffy arms, midi skirts, and maxi dresses are all important parts of the tomato style. Ruffles, sweetheart necklines, and small frills are all great ways to add to the style you want.
More TikTok Trends:
What's a 'Tomato Girl' Outfit?
The 'Tomato Girl' outfit is a great example of what summer fashion is all about. Adolphe says that 'Tomato Girl' looks are easy to put together in the summer. This style is defined by vintage floral prints, cute ruffle tops with tie-up fronts, sweetheart necklines, and breezy linen dresses, all of which have a classic Mediterranean summer feel.
To finish off the outfit, you should add items like sunglasses, a headscarf, espadrilles, and a woven bag. But when it's winter and you can't go anywhere, clothing becomes very important. Adolphe says that a well-balanced look is made by putting a coat or cardigan over a light linen dress or putting a sweater over a frilly or flowy skirt.
Conclusion
TikTok has seen the rise of trends like Barbiecore, Fairycore, and Whimsigoth, with the Mediterranean-inspired tomato girl summer trend emerging in the spring. This unique style is influenced by the Mediterranean coast and popular places like Amalfi Gardens, Santorini, and Barcelona.
The tomato girl summer aesthetic is characterized by bright red colors, neutral colors, green, blues, and lace and crochet. The outfit consists of vintage floral prints, ruffle tops, sweetheart necklines, and breezy linen dresses.
I hope you find out everything you need to know about "TikTok 'Tomato Girl' Trend". If you found this post helpful, please forward it to your friends and family. Don't forget to share your ideas by replying to this post. Save our website so you can find more interesting posts.