Pinegrove Shuffle TikTok Trend: You're either too early or too late for a TikTok trend. Without a doubt, TikTok is a great way to make friends, have fun, learn new things, and build a community. Trends on TikTok seem to come out of nowhere and even pick up on strange things. For this story, the latest thing on TikTok is the Pinegrove Shuffle. You should get ready to jam and show TikTok how good you are at dancing.
In our past stories, we've talked about a lot of trends, such as the TikTok Lion, the Princess Peach filter, the Chicken War, etc. Even though it might be hard to keep up with the fast-moving TikTok trends, that's where we come in. Most of us don't have time to look for viral videos on TikTok all day, every day, so we'd like to talk about the current Pinegrove Shuffle trend for you.
What is the Trend of the Pinegrove Shuffle?
The dance Pinegrove Shuffle is done to the song "Need 2." This song was written by Pinegrove, an alt-country band. If you want to do the dance, all you have to do is walk forward and then step back to the beat of the song. In June 2023, a TikToker made the pattern and spread it through the app.
People are moving back and forth to this particular song by this local band. Does this make no sense? Well, yes, that's kind of because it is. Dancing doesn't take any special skills, so everyone is moving to Need 2's beat these days.
You just need to get into the song and start moving. Find out more about the Pinegrove Shuffle style below. You might also want to share your dance video with the TikTok world.
Who Began the Pinegrove Shuffle Trend?
Garrett Lee (@garrettlee39) posted a video to TikTok on June 9, 2023, in which he danced to a specific Pinegrove song. In three days, the video got over 3.6 million views. The user's unique dance moves are pretty compelling.
In the video, he ran forward, spread his arms out like an eagle, and then did it backward, all while keeping a serious, stone-faced expression on his face. "Pine muthafreakin' grove," the video's title said.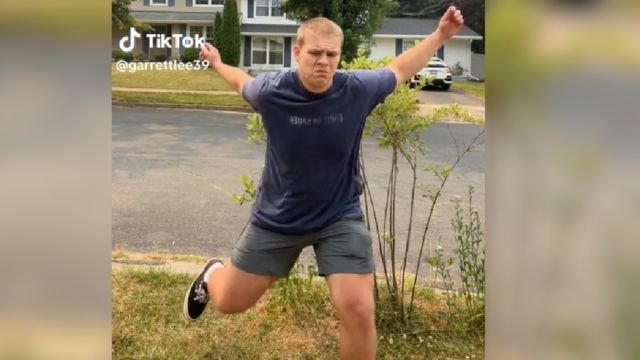 The dance became known as "the Pinegrove shuffle" after other TikTokers posted videos of themselves doing it. On June 9, TikTok user @mikeyslowey added a duo to @garrettlee39's video and asked, "TikTok, can we make this a thing?"This was SO HARD to do in Crocs," the video went viral. In three days, more than 330,000 people watched it.
A TikTok user named @tatensmellgood shared a video of DJ Khaled dancing to the song on June 10, and it got more than 800,000 views in two days. People just added the Need 2 song to DJ Khaled's video, so we'll have to see him post a video of himself dancing to the Pinegrove Shuffle.
How Did the Trend Begin?
Pinegrove is an alternative rock band that has gained a lot of attention since it was formed in 2010. They got a lot of fans who called themselves "Pinenuts." They are a rock band for English majors. Their music is very artistic, often leans toward acoustic, and is definitely not dance music.
Garrett Lee danced to a song from the past called "Need 2." It's on their 2015 record "Everything So Far," which is exactly what it sounds like. It's a collection record from a young band that has all of their songs on it.
Other Tik Tok Trend:
Wrapping Up
The Pinegrove Shuffle TikTok trend involves dancing to the song "Need 2" by the alt-country band Pinegrove. The dance involves walking forward and then backward to the beat of the song. The trend gained popularity after Garrett Lee posted a video on June 9, which went viral.
Other TikTokers have also shared videos of themselves doing the dance, with one video getting over 3.6 million views. Pinegrove, an alternative rock band, gained attention in 2010 and has gained a large fan base.
We're hoping this content proves to be helpful to you… Wow, I really appreciate you reading this! Please let us know what you thought of the article by leaving a comment and sharing it with your friends if you did. Theshahab.com also features additional articles.