After guest hosting for the Jeopardy! franchise earlier this year, the actress best known for her roles in Blossom and The Big Bang Theory is now taking the helm as the show's permanent primetime and spinoff host.
"My older son is the one who originally said, 'Did you know they're looking for Jeopardy! hosts? I saw on the internet. Maybe you should find out," the 45-year-old Bialik, who is not only an actor but also a neuroscientist!, stated in a May 2021 on-set Jeopardy! interview. He was really, really proud. He's very, very excited… My 12-year-old's a little less enthralled in general with me being in the industry, but I think he knows it's a very iconic thing and mostly he'll criticize what I look like because that's what 12-year-olds do."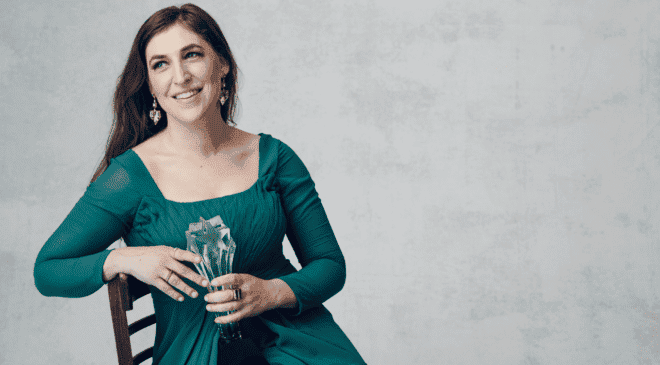 Mayim Bialik is getting ready to quiz competitors on TV, so here's a glimpse at her personal life. Check out who is she married to.
Also Read: Is Amy Schneider Married: What Did She Wear on Her Wedding Day?
Is Big Bang Theory Star Mayim Bialik Currently Married?
After Justin was a guest on Mayim Bialik's Breakdown, she agreed to appear on his podcast, Life Is Short. And when he pressed Mayim on their status as a couple, the Blossom alumna put an end to talk of a wedding.
"I don't want to divulge anything [but] do people know you do [the podcast] with your husband?" Justin said. "He's not my husband," Mayim replied. "We do our podcast as partners, so we actually prefer not to sort of talk about it. But most people realize that we're partners in many ways."
She continued, "Jonathan and I don't discuss our romantic life for a number of reasons," elaborating on why they don't. She went on to say, "People know that we're that but we try not to [speak about it]." As the author puts it,  "We don't want professional people to feel like they're stepping into a couple's therapy session, which is kind of what it feels like all the time. It's just the nature of a podcast about mental health … It's creating a podcast with an intimate partner."
What Does Jonathan Cohen Do for a Living?
According to his bio on the podcast's website, Cohen is a "futurist," writer, poet, and producer. He's a creative multitasker with an MFA under his belt who's done stints in both the film industry and the health and fitness sector. Moreover, he graduated from the University of Victoria with a Bachelor of Fine Arts degree in film, cinema, and video studies.
Cohen is the Chief Executive Officer and Creative Director of Lotic.ai, an app that encourages greater introspection, drawing on his more than 20 years of experience in the fields of mindfulness and healing. To "help individuals live their tomorrow better than today," Lotic.ai employs "artificial intelligence, data science, and behavioural science." Samsung, Whirlpool, and Ford are just some of the companies that have teamed up with this one.
Bialik and Cohen are both very much engaged in the social media realm, and they occasionally post cute photos of themselves together. Fans had conflicting reactions to a video Bialik posted in June 2022 in which Cohen helped out with housework by vacuuming. But Cohen didn't take the criticism to heart and even said he'd make a "reply video" to win Bialik back.
Must Read: Is Mike Rowe Married: What Does He Say About Having Children?
Mayim Bialik Past Relationships
After dating for a while, Mayim Bialik tied the knot with Michael Stone on August 31, 2003, in Pasadena, California. The Jewish wedding practises were included into her wedding, which had a Victorian flavour. She mentioned in her interview that they had met each other as graduate students studying calculus at UCLA.
Michael Stone was raised as a Mormon but became Jewish when he started dating Mayiam. She filed for divorce from Stone in 2012, citing "irreconcilable differences,". Despite their divorce, Stone and Mayiam are still considered family members by both sides.
What was the Inspiration of Breakdown Podcast?
Breakdown, a podcast hosted by the former child actor, was partially inspired by the first year of the COVID-19 pandemic, the host told Forbes in 2021.
"To be honest, 2020 was a beast of a year and my partner Jonathan and I have a shared passion for mental illness and mental illness education," she explained. "So many more people have either occurrences of mental health challenges or they were experiencing intense anxiety for the first time in their life.
So many people didn't even know what to call it or what it was or what you could do about it. So we decided to start a podcast. The idea is to explore all the aspects of mental health that many of us are not told about. That's how Mayim Bialik's Breakdown was born."
Recommended: Is Tyler Perry Married or Currently Seeing Someone?
The podcast debuted early in 2021, and since then, guests like Steve-O, Justin Long, Margaret Cho, and more have appeared on it.
Breakdown examines mental health from every angle, both personally and scientifically. Bialik, who has a Ph.D. in neuroscience, recently told the Jewish News Syndicate that she and her boyfriend have very different perspectives on mental health, and that they are able to bring both of these viewpoints to the podcast.
"My partner Jonathan Cohen and I work on it together; we are creative and writing partners," the Jeopardy! co-host shared. "One thing we talk about on the podcast is loneliness for people struggling with that. He is a writer and I'm a neuroscientist, so I bring the science piece."
The podcast dispels common misconceptions about psychological and emotional health through "quirky, informative, and interactive" episodes.