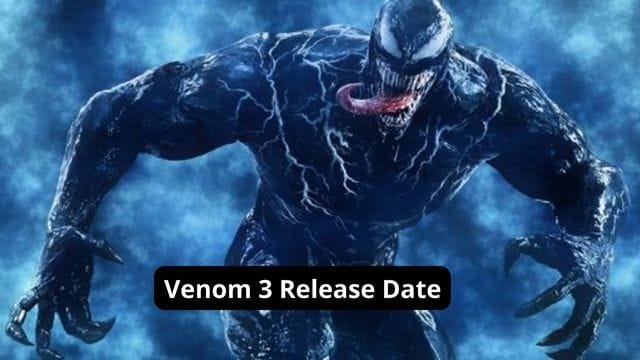 Venom 3 Release Date: Plot | Will Spider-Man Be in Venom 3?
Here you will find information about the Venom 3 Release Date, rumours, cast plot, and whether there will be Spiderman in Venom 3.
About Venom Season 3
After the success of Venom and its sequel, Venom: Let There Be Carnage, star Tom Hardy recently hinted at a third movie by posting a picture of the title page of the new screenplay on Instagram.
In the first movie in the series, Eddie Brock accidentally joins forces with Venom, a crazy alien symbiote that wants to take over the world.
Since Brock accidentally killed the other alien symbiotes being used in experiments, Venom is the only alien left alive. Brock is a target for people who want to learn more about alien symbiotes.
Brock and Venom finally became friends, and they went out to protect their city by killing criminals. This storyline was different from most of Marvel's good-guy hero plots.
Venom: Let There Be Carnage continued the series by showing how Venom spread to serial killer Cletus Kasady and turned him into Carnage, Venom's biggest enemy.
At the movie's end, Brock is taken to the MCU, which is similar to Venom's idea of different universes.
Since Hardy said the movie is being made, fans have been wondering when it will come out and who will be in it. He had already said it could be the first book in a trilogy.
Who's the True Villain in Venom 3?
Detective Mulligan's eyes flash light blue at the end of Venom: Let There Be Carnage; if the comics offer any indication, a new extraterrestrial symbiote, Toxin, will be a villain in the third feature.
The Toxin, Carnage's son, is a hazardous mix of Venom and Carnage. In earlier interviews, Andy Serkis has hinted at Toxin's appearance, but the film's director is unknown.
Tom Hardy and Stephen Graham may reprise their roles as Eddie/Venom and Detective Mulligan.
In a 2021 interview with Esquire, Hardy said, "If both sides are willing and it's beneficial to both, I don't see why not."
I hope and eagerly work towards that possibility and would do anything to make it happen within corporate ethics."
Tom Holland or an alternate reality Spiderman, like Andrew Garfield's, may also appear.
Venom 3 Plot
Venom 3's plot is unknown, although the finale of Venom: Let There Be Carnage offers some exciting clues.
Detective Mulligan, a good guy till then, opens his eyes after a supposedly deadly injury to find blue glows.
The Toxin, a comic book character, might be Mulligan's new persona. The Toxin, like Venom, is a creation of Carnage. Toxin's great-grandparent is Venom.
Toxin combines the best qualities of its ancestors, making them formidable. While not intrinsically evil, films may not show that.
According to Spider-Man: No Way Home, Tom Hardy's Venom won't encounter Tom Holland's Spider-Man. Doctor Strange collapsed the multiverse in No Way Home, sending Eddie back to his realm.
Hardy helped Kelly Marcel with Venom 3's story. Marcel penned Let There Be Carnage, Cruella, and Venom.
Venom 3 Rumours
Since Venom 3 is still in its early stages, it's hard to decide who will be in the movie. Even though Tom Hardy hasn't signed on for a third movie, a lot could bring him back.
Notably, the movie's final scene sets Hardy's version of Eddie Brock for a more permanent role in the Marvel Cinematic Universe.
In other news, Michelle Williams should be given a chance to shine as She-Venom in Venom. The star only had a small part in Let There Be Carnage, but when the first movie came out, she said she'd love to learn more about Anne Weying's other persona, She-Venom, who is just as crazy.
Patrick Mulligan, played by Stephen Graham, is the other big name that is said to be making a comeback. The detective's sad story was another of the movie's sob stories, but his ending hinted that he would play a more significant role in Venom 3. But I'll talk about that later.
Woody Harrelson's Carnage and Naomie Harris's Shriek seem to end unless there's a clever way to avoid getting your head bit off and being crushed by a church bell (respectively).
New A-list actors could easily play symbiotes like Maniac and Scream, but comic book fans will want to know where Knull, who created symbiotes, is.
Lastly, there have been calls for Joe Manganiello to play Flash Thompson again in the Raimi-Verse. In the comics, Thompson is another unfortunate person who got caught up in the symbiote drama and had the original Venom bond with him as a new person.
Tony Revolori plays Flash in the MCU, but he seems too young for the part. Manganiello, on the other hand, would be a great link to the chaos of the multiverse.
Will Spider-Man Be in Venom 3?
No. At this point, it doesn't look likely, or at least it doesn't seem possible, that Eddie will meet Wallcrawler from the MCU.
He might meet another version of Spider-Man in his universe, but since Venom was sent back to his world after "No Way Home," it's unlikely he'll meet Tom Holland's Spider-Man.
Still, Venom left a small part of himself in the MCU, so it seems likely that Marvel's Spider-Man will eventually meet a version of the symbiote.
Venom 3 Release Date
*Venom 2 Release Date: October 1, 2021
Venom 3 Expected Release Date: October 1, 2023
When Will the Venom 3 Come Out?
The release date of Venom 3, which doesn't have a name yet, will depend on how far along the script is.
We might deduce that the screenplay is nearing completion based on Hardy's eagerness to discuss the project when Sony confirmed its production at CinemaCon 2022.
That would release in 2024 if the show can get underway by the end of the year as planned.
With Morbius already out and rumours of a Madam Web movie coming; it's likely that Sony will spread out the Venom sequels, so they don't overshadow their other Marvel comics.
Related:
Frequently Asked Questions
What is the R-Rating For Venom 2?
The movie is not rated R. The film is rated PG-13. Thus it may not be suitable for children under 13. Andy Serkis says the movie may have gotten an R-rating with Venom and Carnage facing off.
How Does Venom Stack Up Against Carnage?
The comics and the upcoming 2021 film make it clear that Carnage is more potent than Venom in a fundamental way.