WWE's Top 10 Strongest Wrestlers: Check out The List!
10 Strongest Wrestlers: WWE Has been Around for more than 40 years, and in that time, it has made thousands of superstars who have captivated wrestling fans all over the world.
Here is our list of the top ten WWE strongest wrestlers of all time, from Brock Lesnar to Goldberg, Kane, and The Undertaker.
Top 10 Strongest Wrestlers in the World
1. Brock Lesnar
Brock Lesnar is no longer actively competing in mixed martial arts. In addition to that, he is well-known for his work in UFC and WWE. He holds the record for the most consecutive months as WWE Universal Champion.
Lesnar has won the global championship eight times within WWE, once within the UFC's heavyweight division, and once within the NCAA's wrestling division for the heavyweight class. In a nutshell, Lesnar has been victorious in a number of the most important wrestling competitions, such as the King of the Ring tournament in 2002, the Royal Rumble in 2003, and the Money in the Bank competition in 2019.
2. Seth Rollins
In 2021 and 2022, Seth Rollins feuded with Edge and moved to Raw.
He quickly became the No. 1 contender to the WWE Championship after his rivalry with The Rated-R Superstar.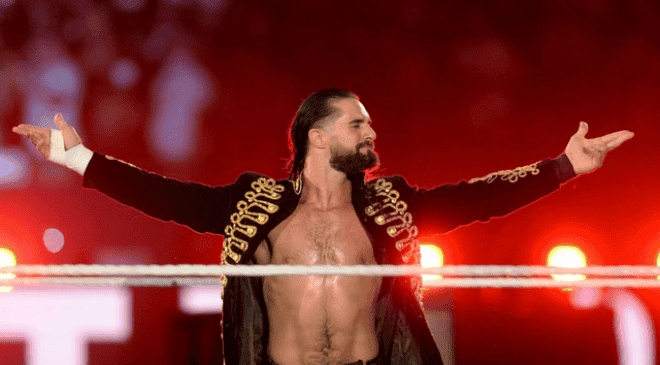 Although he never had a one-on-one championship shot, he always performed well, especially on Day 1. He and Kevin Owens are a Raw highlight to this day.
Rekindling his feud with Roman Reigns on SmackDown benefited him. Their history sold itself, thus their championship fight at the Royal Rumble was a barn burner.
The Visionary won via disqualification. It's Reigns' first PPV loss since December, so their unfinished business should be settled.
Rollins is aiming for the WWE Championship in Elimination Chamber. He's been giving out a babyface vibe, so the organization may go that way as WrestleMania 38 approaches.
3. Roman Reigns
Roman Reigns has the highest rating of all the characters in the game. He has a little advantage over his opponent Brock Lesnar, but that isn't surprising. The Tribal Chief has long been at the top of his game, but his heel turn has catapulted him to new heights.
Roman deserved his position as the top talent in WWE 2K22, and it is one that most fans would have predicted going into the game. He has a genuine powerful style in the ring, and his whole character work has helped him grow even further, with Reigns poised to be a popular gaming pick.
4. Scott Steiner
Scott Steiner is a professional wrestler who has competed in WCW, WWE, and TNA. In 2003, he had a dispute with Triple H over who had the greatest body/who was the strongest.
There is no special reason for being on the list. He's just a powerful person in general. Scott Steiner is a professional wrestler who has competed in WCW, WWE, and TNA. In 2003, he had a dispute with Triple H over who had the greatest body/who was the strongest.
There is no special reason for being on the list. He's just a powerful person in general.
5. Bill Goldberg
William Scott Goldberg is a professional wrestler, actor, and former football player from the United States. He is presently under contract with WWE.
With the spear, Goldberg jackhammered every single wrestler. Goldberg possesses a great deal of force and desire, as well as a wide range of abilities. He is the most powerful! He put on a great show with his jackhammering. Goldberg is one of the strongest wrestlers of all time.
With one arm, he lifted 541 pounds. He has a bench press of 605 pounds. He is capable of defeating anyone. Goldberg is the most dominant wrestler of all time (strength speed intensity). In WCW, he'd jackhammered Big Show a handful of times. He's the Kratos of the ring.
6. The Undertaker
Even though the Undertaker isn't as muscular as some of the other WWE superstars on this list, he has done things that have earned him a spot on this list.
On an episode of SmackDown in 2006, The Undertaker raised Mark Henry for the tombstone and pulled it off successfully.
That's 340 pounds of dead weight, and The Undertaker's use of his knees to enter the ring (to save Henry's neck from cracking) indicates he's one of the most powerful guys in WWE history. Even though he is past his peak, the superstar still brings back memories whenever he enters the ring.
7. Kane
Jacobs was reintroduced in 1997 and was highly schooled by the great Ray Candy and Dean before entering the wrestling arena.
One of the most well-known 'Hell in a Cell' fights occurred when Jacobs was introduced as the renowned wrestler, Undertaker's brother, costing the Undertaker his brawl with Shawn Michaels.
He was the third Grand Slam Champion and one of the greatest WWE wrestlers of all time. Therefore, he is counted in as one of the strongest wrestlers of all time.
Kane is also the seventh Triple Crown champion in WWE history. He won the renowned ECW Championship at WrestleMania and established a record by defeating Chavo Guerrero in less than 12 seconds.
This is not Kane's sole professional record; at the 2001 'Royal Rumble,' he annihilated a total of 11 wrestlers. That record has still not been broken as of today.
8. Braun Strowman
No one compares to the monster Braun Strowman when it comes to power. He was a professional strongman athlete who won several titles before becoming a WWE phenomenon.
Winning the Arnold Amateur Strongman World Championship was one of the highlights of his career. His lifting achievements are self-evident. He can easily carry vehicles and other big things, demonstrating Strowman's entire strength.
He is a two-time Raw Tag Team Champion, a one-time Universal Champion, and a one-time Intercontinental Champion. Braun has previously worked with some of the industry's biggest personalities, including Big Show, The Great Khali, and Mark Henry.
There are some really powerful wrestlers, and then there's Braun Strowman. He is ranked number two on our list of the top ten most powerful WWE wrestlers in 2021.
9. The Big Show
The Big Show would be the best wrestler in WWE to take on Andre The Giant. Simply glancing at his body gives you an indication of how powerful he is. The 7-foot-485-pounder is beyond his prime, yet no matter how large he is, he can still knock someone out in a couple of seconds.
For him, the appellation "World's Largest Athlete" is more than a moniker; it's a way of life. The Big Show is a potential WWE Hall of Famer who will be remembered for his incredible feats of power in the ring.
10. Mark Henry
You would have to assume that Mark Henry's prior administrator would find a way to make the list. Chartbook was not a voice for the World's Strongest Man in any case.
The prior wrestler, powerlifter, and weight lifter who gained the title "Mr. USA" on three consecutive occasions is a member of the WWE Hall of Fame and was inducted into the World Bodybuilding Guild (WBBG) Hall of Fame in 2007.
Indeed, Atlas, who returned to the WWE in 2014 as a participant in the WWE-produced reality show Legends' House, can still hold his own with the weights despite being 61 years old.