Elemental Movie Release Date: Discover the Magic of the Elemental Universe in Disney Pixar's Latest Film!
The Disney Pixar film Elemental should impress moviegoers when it debuts on the big screen next year. In a universe where the four elements coexist, it appears we now have a better notion of what to expect when the film hits theatres. What is the Disney Pixar picture Elemental's release date, who is in it, and what is it about? We examine all of this and more in the sections that follow.
When Does the Elemental Movie Come Out?
Check out this #D23Expo Exclusive Poster for Disney and Pixar's Elemental. See the movie only in theaters June 16, 2023! pic.twitter.com/gnLjVZVngx

— Pixar (@Pixar) September 9, 2022
The release date for Elemental is Friday, 16 June 2023. The film is receiving a theatrical release, so Disney Plus customers should not expect to watch it until mid-September at the earliest. The film is directed by Peter Sohn, based on a script by Brenda Hsueh, and produced by Denise Ream.
Is There Any Trailer For the Elemental Movie?
The Elemental teaser trailer is dreamy, sweet, and definitely silly. It shows the four different kinds of people who live in Element City, as well as the two main characters, Ember and Wade. In the minute-long preview, puffs of air, chunks of land, drops of water, and fiery flames all get on a busy train. The preview also shows some of the physics of this new universe.
The air beings can float around and even sit with their backs to the ceiling of the train. When the train goes over a bump, a water-being drops her lipstick, which lands inside her and floats around her head. She might have to go to the filter station that the train goes by to get it taken off. A land-being smiles at the new grass growing on top of his head, and Ember gets hurt when Wade drips water on her hand by accident.
Official Synopsis of the Elemental Movie
Here is the official synopsis of the movie:
"The film journeys alongside an unlikely pair, Ember and Wade, in a city where fire-, water-, land- and air-residents live together. The fiery young woman and the go-with-the-flow guy are about to discover something elemental: how much they actually have in common."
In Elemental, the audience is taken to the center of a city where the four elements of fire, water, earth, and air all live together. Even though they don't always get along, they try to live together. Ember, a "young fire elemental," meets Wade, a "go-with-the-flow" water elemental, on public transportation. They both know that fire and water don't always mix well, but they might have more in common than either of them thought.
"My parents came to the U.S. from Korea in the early 1970s and opened a busy grocery store in the Bronx," said the movie's director, Peter Sohn. We were one of many families who moved to a new country with hopes and dreams. All of us mixed together into one big salad bowl of cultures, languages, and beautiful little neighborhoods. That's why I started playing Elemental."
Who Will Star in Elemental Movie?
The voice actor for Wade Ripple is Mamoudou Athie. Wade is reportedly a man who goes with the flow. When he and Ember begin to stir things up in the Elemental world, he appears a little uncomfortable.
Mamoudou Athie's first voice acting job will be Elemental, though moviegoers may remember him as Ramsay Cole in the 2022 film Jurassic World: Dominion or as the intriguing VHS enthusiast in the Netflix horror series Archive 81.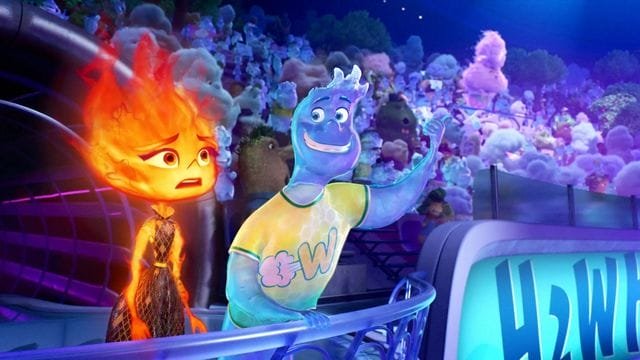 Leah Lewis will lend her voice to Ember Lumen. Ember is quite the pyrotechnic. From the roof of her home on what appears to be a fire island, she yearns for a world in which she can navigate without fear.
Leah Lewis is recognized for her depiction of the educated romantic underdog Ellie Chu in the Netflix drama The Half of It and for her recurring role as Georgia 'George' Fan in the Nancy Drew series.
Lewis's first voice acting part will be Elemental, yet she is already preparing for her next. Rav will be voiced by Lewis in the next animated adventure picture The Tiger's Apprentice, which has an almost exclusively Asian/Pacific Islander ensemble, including Sandra Oh of Killing Eve and Henry Golding of Crazy Rich Asians.
Where To Watch Elemental Movie
Once Elemental becomes accessible for streaming, it will presumably be exclusive to Disney+. Before being made available for digital purchase or streaming, the studio typically allows its feature films to play in theatres for 45 to 90 days.
Who are the Makers of Elemental Movie?
Peter Sohn, who joined Pixar Studios in 2000, will be in charge of directing this Disney-Pixar movie. This is his first credit as a director, but he is known for his work in the studio's art department on movies like Finding Nemo and The Incredibles and for voicing characters in Lightyear and Luca. Pete Doctor, who wrote Inside Out, Up, Soul, and Wall-E, is now the executive producer.
Denise Ream, who worked on Up, Cars 2, and Toy Story 4, is the producer. Fans of these movies are excited to see what changes the producers will make to Brenda Hsueh's Elemental screenplay. Hsueh is known for producing and writing adult comedy shows like How I Met Your Mother and Truth Be Told. She has also consulted for the director of Turning Red, Domee Shi, on a powerful Disney Pixar project about coming of age.
Also Check Out:
Final Words
Elemental is a Disney Pixar film set in a universe where the four elements coexist, and the release date is June 16, 2023. It is directed by Peter Sohn, based on a script by Brenda Hsueh, and produced by Denise Ream.
Elemental follows the four elements of fire, water, earth, and air as they try to live together despite their differences. Wade Ripple is a man who goes with the flow, while Ember Lumen is pyrotechnic who yearns for a world without fear.