Here you will find information about Superman and Lois Season 2 Cast, Release Date, and how season 2 avoids Arrowverse Story Trap.
About Superman and Lois Lane Season 2
After years of fighting supervillains, monsters, and alien invaders, the world's most famous superhero, The Man of Steel, aka Clark Kent, and the most famous comic book reporter, Lois Lane, now have to deal with being working parents in today's society, which is one of their biggest challenges ever.
Clark and Lois see Lana Lang and her husband, Kyle Cushing, again when they return to Smallville to take care of Kent's family business. Clark and Lois worry that their sons, Jonathan and Jordan, might get their father's Kryptonian superpowers when they grow up. This makes the already challenging job of raising two boys even harder.
In Smallville, it's not just the adults who meet up with old friends. Lana and Kyle's rebellious daughter, Sarah, gets to know the Kent boys again. There's never a dull moment in a superhero's life, especially since Lois's father, Gen. Samuel Lane, always looks for Superman to stop a bad guy or save the day.
Quick Information About Superman & Lois Season 2
First episode date: 

February 23, 2021

Network: 

The CW

Language: 

English

Program creators: 

Todd Helbing, Greg Berlanti

Executive producers: 

Greg Berlanti, Geoff Johns

Genres: 

Superhero fiction, Drama
Superman and Lois Season 2: Episode 15 Release Date
The second season of Superman and Lois will take one more break from The CW. So, when will it come back? Fans have been waiting for a long time, but new episodes of Superman and Lois season 2 are finally airing on The CW.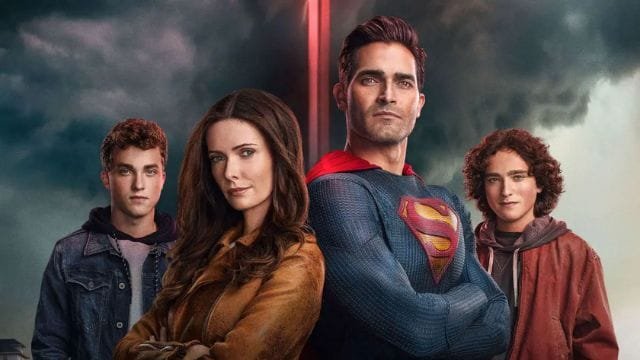 The show came back for its second season on Tuesday, January 11, but it now airs at 8:00 p.m. ET, which is a new time slot. It is the latest addition to the network's growing Arrowverse (instead of its former 9:00 p.m. ET slot).
Instead of having a lead-in as in its first season, The Flash has been the lead-in for the new superhero show, Naomi, on The CW and now for the must-see Tom Swift.
The first few episodes set up another exciting season. It then started taking several breaks during its run.
The show will be off the air for a short time again before the last two seasons of season 2. This means that fans will have to wait a while for new episodes.
The fourteenth episode of Superman and Lois season 2 will air on The CW on Tuesday, June 21, at 8:00 p.m. ET.
It will continue to air at 8:00 p.m. ET, just like the rest of the season so far. It will lead into new episodes of Tom Swift's first season.
Even though we don't know much about the next Superman and Lois episodes, we can expect the show to keep going with the exciting Mirror Dimension storyline.
Lois will also keep trying to get rid of Ally Allston and save her sister from the evil person who wants to be in charge in Bizarro World.
Superman and Lois Release Date: February 23, 2021
Expected Superman and Lois Season 2 Release Date:  February 2023
Superman and Lois Season 2 Cast
Cast & Crew
Tyler Hoechlin. Clark Kent.
Bitsie Tulloch. Lois Lane.
Jordan Elsass. Jonathan.
Alexander Garfin. Jordan.
Emmanuelle Chriqui. Lana Lang.
Erik Valdez. Kyle Cushing.
Inde Navarrette. Sarah.
Dylan Walsh. General Samuel Lane.
Superman & Lois Season 2 Avoids Arrowverse Story Trap
Sarah Cortez bucked Arrowverse clichés when she learned Jordan Kent's hidden identity.
Sarah Cortez learned about Jordan's superpowers and hidden identity in Superman and Lois season 2, avoiding a classic Arrowverse story pitfall.
In many superhero stories, the hero's deception leads to anger and, in some cases, hostility. Sarah and Jordan handled their relationship more maturely and honestly than other Arrowverse adults
Superman and Lois season 2's penultimate episode was another high-point for a show all-too familiar with them.

It did NOT stop and it set the stage for a finale that will no doubt be even grander.

I love this show so much! 👏 👏 #SupermanAndLois pic.twitter.com/WYH811Kpvy

— Michael Patterson (@michaelp93) June 22, 2022
Sarah Cortez (Inde Navarrette) and Jordan Kent (Alexander Garfin) had one of season 2's most exciting romances. Jordan despised hiding his emerging superpowers in Superman & Lois from Sarah. Still, he honoured his parents' wishes to keep their secret that Clark Kent is Superman, even if he wanted to marry Sarah when they were old enough.
Sarah dumped Jordan after he missed too many dates, not knowing he was quietly saving lives.
Lana Lang (Emmanuelle Chriqui), Sarah's mother, learned that Clark Kent was Superman and avoided the Kents afterwards.

Lana forbade Jordan from telling Sarah his secret identity or hanging out with her, fearing he'd damage her.
Frequently Asked Questions
What happens in the second episode of Superman and Lois Lane?
A family dinner for their new guests begins the second episode of the second season of Superman and Lois. On the other hand, Nat is a vegetarian, so her attempts to prepare bacon and eggs are met with scepticism.
Superheroes Clark Kent, The Man of Steel, and Lois Lane, the most famous journalist in comic books, have spent years battling evil supervillains, monsters wreaking devastation on Metropolis, and aliens bent on eradicating the human race.