The rogue company, produced by Epic Games studio is now available in Open Beta for free on consoles and PCs. Gamers all around the globe are going complete bonkers after this news surfaced. At the same time many, are eager to find out if the game embraces cross-platform play or not. If you've been curious whether or not Rogue Company supports cross-platform play, or how to cross-save, this guide will settle all of your questions.
Is Rogue Company Offering Crossplay?
Rogue Company has been gaining a lot of attention lately and has surpassed all the other games under Hi-Rez Studios title. Games will be able to live this game on various platforms such as Xbox One, PS4, and Nintendo Switch, and  PC. The only question we're left with is " Does Rogue Company offers crossplay"? The answer is a resounding Yes. 
Rogue Company is a cross-platform multiplayer game that lets gamers kick off a matchmaking session with anyone else on any of the devices except PC. When playing this multiplayer game on a desktop, players will only be paired against other desktop players. It is still possible to play against Xbox One, Nintendo Switch, and  PS4 users if you are at the same party.
The cross-company feature is enabled by default and gamers can't restrict it, as of now Xbox is the only platform that allows gamers to disable the cross-play feature. This isn't a good idea, as you might have trouble during matchmaking.
Join Forces With Your Peers And Wreak Havoc
No matter which platform you're playing on, forging friendship and making friends who'll join you in your adventures is as simple as clicking a button. Enter their username into the Social tab on the menu page, and you'll be able to send them an invite right off the bat. There is a PlayStation logo next to their moniker, a screen sign next to their name, and so on, to reveal which console they play on. 
If you're matched with random players and want to add them to your party, go to the main menu screen and look up their account information. Rogue Company is a multiplayer team shooter, and finding skilled players and adding them to your party will give you an edge on the competition. The game also features a 'Do Not Disturb feature that automatically dissuades any party invites or friend requests.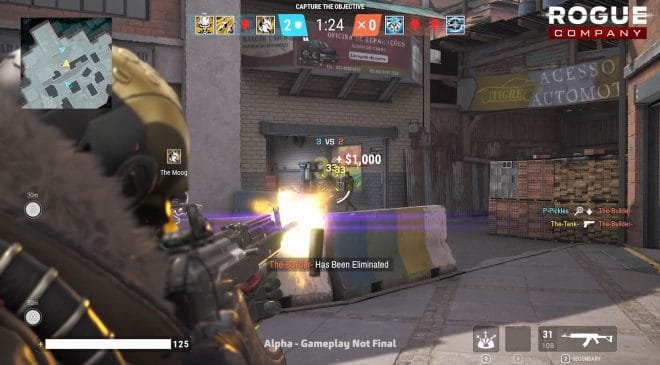 How To Cross-Save In Rogue Company?
Rogue Company's cross-save feature keeps your progress synced across all of your gaming platforms. However, you will have to link all of your relevant accounts in Rogue Company to cross-save. Go to the game's website, choose a platform from which you've been playing, and then register in with your credentials. 
You can now add multiple accounts you've across Xbox One, PS4, or Epic Games store, or Nintendo Switch. Next, you must choose your primary account, which is the system on which you spend the most time playing Rogue Company? This feature will allow you to continue playing on your main account even when you switch platforms. 
Rogue Company is a well-crafted third-person shooter game. If you're an experienced gamer, you should try your hand at ranked Demolition or the strikeout game mode. All the characters have been thoughtfully developed, each with their own unique set of skills. The most recent patch adds a gorgeous Japanese-inspired theme as well as gameplay tweaks to up the realism factor in gun battles. For those who want to change their primary weapon, the store has been redesigned to make it easier and less expensive.