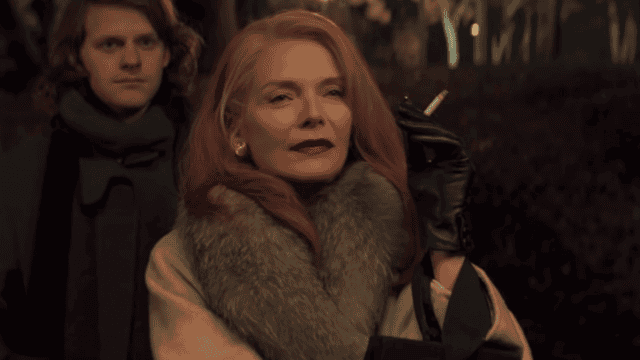 'French Exit' Ending Explained: Frances's Husband Was Murdered, but Why?
A person's life is largely consumed with the pursuit of something. It's all or nothing, whether it's love or hate, money or ambitions. In fact, after we emerge from this dark tunnel, most of us have no idea what we'll do with ourselves.
Because we are frightened of dying, we keep the tunnel open as long as possible to give ourselves a reason to remain alive. Do we despise everything that ends – love, life, feelings, money? Azazel Jacobs' surreal comedy, French Exit, deftly explores the anxiety of endings and the reluctance to go on.
French Exit is based on the novel of the same name published by Canadian author, Patrick DeWitt. Azazel Jacobs takes in the sights of Paris and the quiet of its inhabitants without any pomp or self-deprecating humor. The plot revolves around a son's love for his mother, who he knows would suffer greatly after his father dies and she is left to fend for herself in a world dominated by men.
'French Exit' Summary
Manhattan heiress Frances Price (Michelle Pfeiffer) lives grandly with her son, Malcolm Price on the assets left by her rich husband, Franklin Price. When the film opens, Frances has just received a notice from the bank that says they intend to seize all of her husband's possessions.
Frances found Franklin on a bed seven years ago, pinned down from a stroke; however, she did not immediately assist him and instead left him for a while, allowing him to die.
After the court chose to seize Malcolm's inheritance, Frances's lawyer broke the news to her that the family was now completely destitute. He suggested that she sell the valuables, artwork, and literature in the house secretly, collect the money, and depart.
Frances was sure that she would be dead before they ran out of money, yet she is still alive. France's long-time friend Joan (Susan Coyne) supports her with an empty Paris apartment.
Meanwhile, Malcolm goes home to surprise his mother with the news that he is getting engaged to his longtime girlfriend Susan (Imogen Poots). Malcolm, who has always been shy and reticent, has finally worked up the courage to shock his mother, but before he can say a word, she shocks him by announcing that they are leaving America permanently.
'French Exit' Ending Explained
When Frances gazed at her son and his fiancée, Susan embracing each other, it brought a sense of fulfillment in her. She felt glad that her formerly dedicated son, has now found a new dedication in his life. It also reveals to her the emptiness of life without a companion. After the cat, who is secretly her husband, left, she felt even more alone.
Madeleine the Medium, a fortune teller, helps her communicate with her late husband's spirit, who is thought to be inhabiting the family cat. She recalls their shared history and expresses regret at having allowed him to perish. She informs him in the end that she was astonished by Paris during their honeymoon since she recognized Paris as the final location of her death.
Frances talked to her late husband's spirit while Madeleine the Medium sobbed through the entire session. Madeleine seemed to know that Frances would soon pass away, based on her expression. Madeleine's ability to predict the passing of others was one of her many special abilities.
While on a voyage together, she gave her a stern warning about losing the cat. Madeleine has known all along that Frances's life depends on the cat.
I'll be dead before the money runs out was a remark used three times by Frances. Those close to her knew that she was flushing the cash down the drain in an effort to hasten her death. And after the money was exchanged that night at the home party, she quietly left.
Read More: Resurrection Ending Explained: A Thrilling Roller Coaster Ride with a Shocking Ending!
In the midst of the Cat's pursuit, she vanished under the yellow Parisian streetlight.
Malcolm and Frances finally connected at the end of the flashback sequence. The foundation rests on the reality that while Frances may have killed her spouse in the eyes of the public, Malcolm should know that she did so permanently. To protect her children, she murdered her spouse.
Frances's Husband Was Murdered, but Why?
Both Frances and Franklin belonged to the upper class. They were in love, but they soon found themselves lost. Frances hoped that having a child, Malcolm, would bring them closer together and reignite their love, but Franklin grew aloof after Malcolm was born.
Frances kept her animosity towards her late husband bottled up. Malcolm, though, did. From beyond the grave, Franklin revealed to Malcolm that his mother planned to murder him and that he should inquire as to why from his mother. Malcolm refused to go any further and expressed neither support nor opposition to his mother's plan.
It was clear in this scene that Malcolm and Frances had similar feelings about Franklin. Despite Malcolm's adoration of him as a child, he never once treated him with favoritism or kindness.
Malcolm longed to be embraced by his father, but instead, his father treated him with distaste. As a child, Malcolm attended a boarding school. Frances felt the same way about him, and he was filled with hatred.
Over time, the couple's relationship deteriorated. Franklin's disposition changed, and he became distant and abrasive. Frances abandoned him when he had a stroke and was helpless to do anything about it.
Related:
When she returned, she discovered the cat resting on his chest, and she immediately realized that it houses his soul. Frances went to jail because she ignored her husband's stroke.
Frances found penance in petting the cat for what she had done to her husband. That's why the beast is so crucial to the plot. It helped repair some fences and bring people together.
Final Words
I hope you find out everything you need to know about "'French Exit' Ending Explained". If you found this post helpful, please forward it to your friends and family. Don't forget to share your ideas by replying to this post. Save our website so you can find more interesting posts.