Animations appear to be safer for younger audiences. Ice Age, The Jungle Book, and Ferdinand are just a few of the many well-known examples of animated films that come to mind. Of course, not every animated picture is meant to be a comedy. Some of them venture into quite a murky territory. In fact, many adults may enjoy them, too, because they include important messages cloaked in charming stories. Coraline is a great example of such a film.
The film is equally parts terrifying and interesting. The film is practically a classic since it explores the fascinating idea of parallel universes. The story follows a young girl named Coraline as she goes on an adventure when she discovers a parallel world where everyone's eyes have been replaced with buttons.
At first, she thinks little of this strange world, but soon, she realizes that there is something really wrong here. Now that she's trapped in this nightmare, the girl must confront her own demons if she ever hopes to find a way out. This must be rather strenuous, right?
Well, if you liked this Henry Selick-directed film and want to see more like Caroline, you're in luck because I have some suggestions for you.
1. Corpse Bride
Tim Burton, whose films are often dark and eerie, created an indelible mark on our memories with this stunning animated feature. True to its title, the plot centers on Emily, a newlywed who has become a zombie. The young English villager Victor blunders his way into an engagement with the lovely Emily. In any case, he has already planned his wedding to a woman named Victoria.
The spirit abducts the man and takes him to the hereafter. Victor must now persuade Emily that he loves her in order to win over her fiance. Clearly, with such a fantastic setup, there is room for hilarity, and there is! After all, it is a black comedy that was nominated for an Oscar.
Despite its macabre tone and supernatural elements, Corpse Bride is a tender love story at heart. It shows how true love is not dependent on external factors and may endure over the years.
Read More: Top 10 Movies Like Ready Player One: Don't Miss!
2. The Boxtrolls
In The Boxtrolls, an orphan is taken in and reared by a race of underground dwellers known as Boxtrolls. Eggs, the Boxtrolls' orphan pal, goes above ground to get help when a terrible man decides to wreak havoc on their home and try to kill off all the Boxtrolls. They work together to prevent the Boxtrolls from becoming extinct. When a film (even one with fictional characters) explores the possibility of genocide, it is bound to be bleak.
When you include the grime and drabness of underground existence, you end up with a film that might not appeal to all audiences. However, your scary kid will absolutely adore it. And, no, it's not likely to give you sleepless nights.
3. The Nightmare Before Christmas
The news on TNBC is something we've seen countless times, yet it never gets old. In other words, you're dealing with a skeleton that can talk, sing, and walk about. However, if your child was able to watch Coraline without getting too scared, Jack won't be too scary for them too.
Due to its abundance of both Halloween and Christmas elements, this film is ideal for endless viewing. In addition, despite being largely monochrome and taking place at night, this classic picture has a surprising amount of color.
4. ParaNorman
There can be no comprehensive list of similar films to "Coraline" without mentioning the other works produced by LAIKA Studios. The animation company, still riding high on the success of 2010's "Coraline," continued telling creepy, dark tales with 2012's "ParaNorman," but also making sure the film stood on its own.
Norman Babcock (Kodi McPhee), 11, of Blithe Hollow, Massachusetts, is far more in touch with the supernatural than the rest of the village, thanks to his capacity to communicate with the dead. Despite the fact that his live contemporaries frequently treat his gifts with skepticism and even bullying, nothing can prepare him for the terrifying glimpses of the town's sinister past that he begins to experience. In addition to implying that a horrible disaster is imminent for all of Blithe Hollow, they also imply that Norman may be the only person capable of preventing it.
Related: Here is the List of Top 10 Most Under-rated Gay Celebrity!
Critics and moviegoers alike praised the recent release of "ParaNorman," making it one of the few animated features (together with "Coraline") that can claim universal appeal (via Rotten Tomatoes). Not as really nightmare-inducing as some of the choices we'll be discussing, but still full of the Halloween spirit.
5. Monster House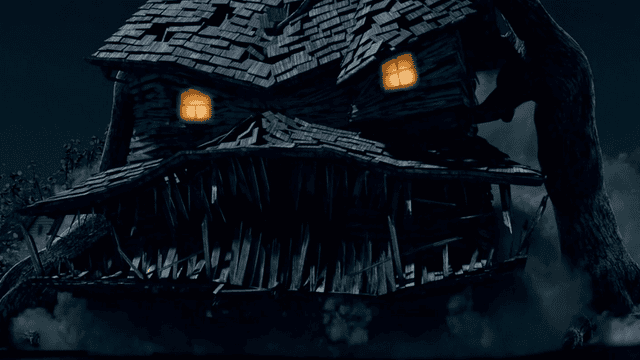 On the surface, the small town in Wisconsin where this takes place appears to be any other. However, further investigation suggests that this may not be the case. Horace Nebbercracker's (Steve Buscemi) house stands out in more ways than one among the other cookie-cutter suburban dwellings that line the neighborhood's roadways.
He seems intent to personify the cliché of the grouchy old man, to the point where there are ugly rumors circulating regarding the true cause of his late wife's death. But that's not the worst part; the house itself gives off a sinister vibe.
In spite of all the strange occurrences, just three of the neighborhood children seem to have noticed that something is wrong. Their worst fears are realized when the home goes on the offensive during a battle with the cops and seals everyone inside. Only then do we begin to piece together the tragic history of the house.
Despite the fact that "Monster House" uses basic CGI images instead of stop-motion, the film's fascinating and disturbing tale more than makes up for this. Like "Coraline," this is a terrific but underestimated spooky-season film because, once the kids explore the rabbit hole that is Nebbercracker's house, they encounter some very disturbing stuff.
Related: Here are the Top 10 TV Shows Like Kaleidoscope to Watch in 2023!
6. Hotel Transylvania
Among the most virtuous of these animated features, directed by Genndy Tartakovsky, this is genuinely uplifting filmmaking. However, there are some shared themes with Coraline, such as a girl's search for who she really is. Similar to Coraline, this film also features a slew of scary monsters that are actually quite endearing.
In addition to the likes of Count Dracula, Werewolves, Mummies, the Invisible Man, and Witches, the cast also features a host of lesser-known characters. In the midst of these monsters and humans is a human who is working to bring the two worlds together. In the same vein as Coraline, this film offers a charming tale of finding acceptance.
7. The Addams Family
The original cartoon by Charles Addams was adapted into a movie in 1991. The Addams Family is a classic among fans of dark comedies with a spooky twist. Coraline's animation is suited for those with a taste for the macabre and the bizarre, and the Addams family scenario is sure to do the trick.
The plot centers on an imposter who targets a wealthy family for theft but ends up with more than he bargained for. The Addams family is one of those fascinating families that would make for a great film with some darkly comedic moments.
8. Beetlejuice
Beetlejuice is Tim Burton's fourth film and his first live-action feature. The film follows a deceased couple who must now haunt their home as ghosts in an effort to maintain their way of life. Even though it's not an animated film, it's still enough whimsical and safe for kids. It has a bit more humor than Coraline, in fact. It's an imaginative film that imagines what it might be like for a ghost couple to live happily ever after.
9. Edward Scissorhands
When comparing Tim Burton's live-action dark fantasy pictures, Edward Scissorhands is right up there with Beetlejuice. In contrast to Beetlejuice's comedic tone, Edward Scissorhands focuses more on romance, albeit with some humorous moments. Edward is a darling with a naive view of the world, despite the fact that his appearance could be frightening to a young child.
10. Frankenweenie
Tim Burton is unrivaled as the master of dark, animated cinema. Frankenweenie, another stop-motion animation picture, is another great addition to his resume alongside Corpse Bride. The picture is both a satire of and an homage to Frankenstein, and it's brilliant.
The film follows a young child named Victor as he goes about his day and shows him grieving the loss of his dog Sparky. But he is resolved to revive his furry companion. Victor brings back to life his dog using the same tired technology seen in countless Frankenstein rip-offs. When word of his experiment spreads and others try to replicate it, that's when things go ugly.