Is Queen Latifah Married: Are the Speculations That She's Bisexual True?
Rapper, singer, actress, and producer Queen Latifah hails from the United States. In the 1980s, when most rap artists were men, Queen Latifah became a household name as a pioneering female rapper. Soon after, she made history by being the first hip-hop artist to be honoured with a star on the Hollywood Walk of Fame.
In both her singing and acting careers, Latifah has been recognised with a number of prestigious prizes and accolades. Rapper and activist Queen Latifah is well-known for her socially conscious lyrics. She is also renowned for the secrecy with which she conducts her personal life and family matters.
Since Queen Latifah rarely discusses her private life in the media, reliable information on her romantic life is scarce. She has even dodged the question of her sexuality in previous interviews.
However, in a 2021 address, she allegedly mentioned her girlfriend and their child, seemingly confirming that she was in a same-sex relationship. According to rumours, she's been dating Eboni Nichols since 2013; the couple recently welcomed a kid named Rebel.
Are the Speculations That She's Bisexual True?
Numerous rumors have circulated about Queen Latifah's sexual orientation. Fans of this renowned rapper already know that she is frequently speculated to be gay.
In fact, in 1996, Queen Latifah's battle with Foxy Brown began, when Foxy Brown was the first to question the rapper's sexuality while dissing her. Since then, there has been much speculation about this actress' sexuality, but no definitive proof. That includes the widespread internet buzz about how she supposedly came out as gay.
Actually, none of those sites has a direct quotation from her expressing such a comment, thus the charges are more like rumors than facts.
Also Read: Is Tyler Perry Married or Currently Seeing Someone?
However, if the reports are to be believed, the rapper first had an affair with Jeanette Jenkins, who is said to have been Queen Latifah's lover for nearly 8 years before they split up for good in 2011.
She also made an announcement from the stage at the Beach Lesbian and Gay Pride celebration about how she has been waiting for this chance for a very long time. She went as far as to say that the homosexual community was her family, which may be interpreted as a confession, but she avoided coming out as gay herself.
So far, the '90s hitmaker's sexuality remains hidden, despite the media's best efforts to coax an admission or denial out of her. The iconic rapper will be considered a member of the LGBT community until contrary evidence, such as her marriage to a specific man, is presented.
Is Queen Latifah Married?
Latifah and Nichols originally met one another in 2009 on the stage of Dancing with the Stars, and even though they have maintained the privacy of their relationship, the two began dating in 2013.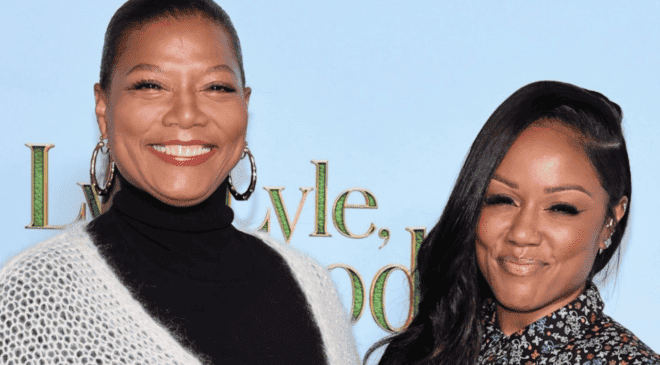 Latifah is very reserved when it comes to her romantic relationships, and in an interview she gave to The New York Times in 2008, she stated, "I don't have a problem discussing the topic of somebody being gay, but I do have a problem discussing my personal life,
"You don't get that part of me. Sorry. We're not discussing it in our meetings, I don't feel like I need to share my personal life, and I don't care if people think I'm gay or not. Assume whatever you want. You do it anyway."
Must Read: Is Roll Hall of Fame Rapper Eminem Married?
Nichols reportedly delivered the couple's son, Rebel, in 2019, despite the fact that they did not make the news publically known at the time. In October of 2018, Nichols was spotted at a medical facility early Beverly Hills with a noticeable baby bump, and Radar Online reported that the two welcomed their baby in 2019.
According to a source who spoke with us at the time, "Latifah has never been so full of life! Latifah now has something really unique to look forward to in life thanks to Eboni and the kid.
During her acceptance speech in 2021 for the Lifetime Achievement Award, it appeared as though Latifah made a reference to their kid. She concluded her remarks with a short statement, which was as follows: "Eboni, my love. Rebel, my love. Happy Pride!"
Who Exactly is Eboni Nichols?
Eboni Nicholas is a professional choreographer who received his Bachelor of Arts degree in Theatre and Dance from Chapman University in Orange, California. Nichols went on to dance with big-name celebrities such as Beyoncé, Usher, and Jennifer Lopez when she graduated.
In addition to her time spent as a cheerleader for the Los Angeles Lakers, Nichols is credited by Emmys.com as choreographing all five seasons of the television show Jane the Virgin as well as the ABC sitcom Fresh Off the Boat.
She has since gone on to choreograph some of the most successful films in Hollywood, including Jumanji: Welcome to the Jungle, Office Christmas Party, and Girls Trip.
Recommended: Who is Jay Leno Wife: The American Television Show Presenter is Currently Married to Mavis Nicholson!
Past Relationships of Queen Latifah
There doesn't appear to be a huge list of Queen Latifah's exes, but she does appear to have dated both men and women. Queen Latifah allegedly dated the following people before she met Eboni Nichols:
From February 1992 until 2001, Queen Latifah dated Kendu Isaacs, the American music producer.
There were rumours that American R&B singer Monifah Carter and Queen Latifah dated from January 1997 through October 2002.
There have been rumours that professional fitness trainer Jeanette Jenkins dated Queen Latifah from December 2002 to May 2011.