Have you ever heard of a pin-up model from the 1950s who had a waist that was too small? Well, we're here to tell you about her.
You might be surprised to learn that one of the most famous pin-up models of the 1950s, Betty Brosmer, only had an 18-inch waist. Well, you don't have to read it again because what you read is right!
Betty Brosmer's beautiful blonde looks have made her the cover of many magazines. Even more surprising is that the young model was on the covers of almost all men's magazines.
Early Life
Betty Chloe Brosmer was born in California on August 2, 1935, in the city of Pasadena. The people who raised her are Andrew Brosemer and Vendla Alvaria Pippenger. Her father raised her to like sports, which helped her do well in sports when she was young. Brosmer spent her early childhood years in Carmel. But when she was 10, she moved to Los Angeles.
She was very interested in fitness when she was young. Brosmer was called a "tomboy" in school because she used to lift weights and build muscle. But she chose to do something different and became a pin-up model. People who knew her when she was a child were kind of surprised by that.
Fitness Career
Brosmer stopped posing as a pin-up after she got married, but she was still often photographed. She was often seen in Weider publications for a long time, helping to promote a wide range of fitness products. She stayed in a lot of magazines and was always in their editorial photos.
During the 1960s and 1970s, she was in many picture layouts and often on the covers of Weider magazines like Jem, Vigor, and Muscle Builder. Her later cover shots were often with other famous bodybuilders of the time, like Frank Zane, Mike Mentzer, and Robby Robinson. Her last cover shot was with Larry Scott in May 1988 for Muscle and Fitness.
Under the name she took when she got married, Betty Weider, she wrote regularly for Muscle and Fitness for more than 30 years. As her writing style changed, she focused on her "Body by Betty" and "Health by Betty" columns in M&F every month. She also worked as an assistant editor for the Shape magazine for women from Weider.
She co-wrote two book-length fitness guides with her husband, The Weider Book of Bodybuilding for Women (1981) and The Weider Body Book (1982). (1984). She made a workout plan for women of all ages with Joyce Vedral. It was called "Better and Better" and came out in 1993.
In 2004, the Weiders gave $1 million to the University of Texas at Austin to help fund the H.J. Lutcher Stark Center for Physical Culture and Sports' collection of physical culture items.
The gift was a key part of the Stark Center's creation of what is now called the Joe and Betty Weider Museum of Physical Culture, a permanent exhibition space. The museum's 10,000-square-foot gallery space holds a lot of things. It opened to the public in August 2011.
Betty Brosmer's First Photoshoot Pose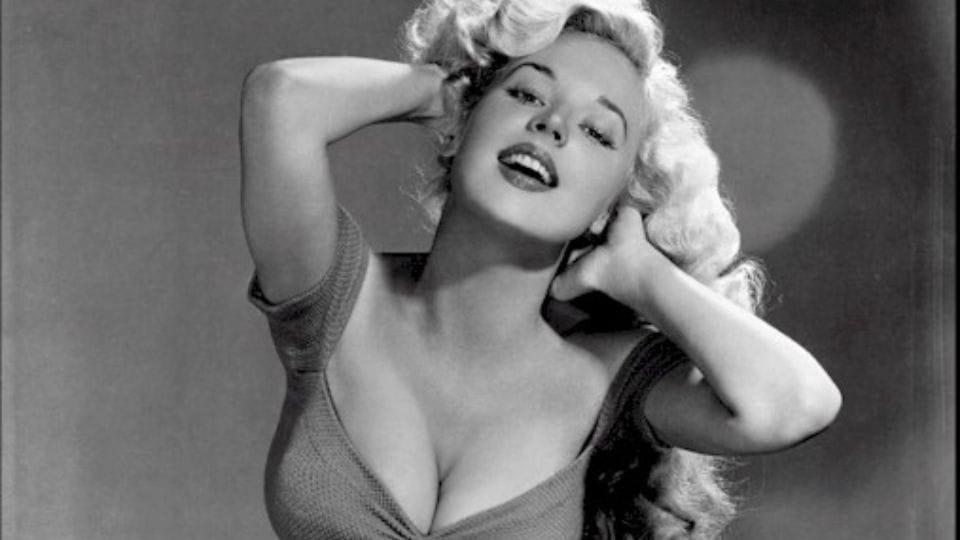 Brosmer's picture was in the Sears & Roebuck catalog when he was 13 years old. The very next year, she went to New York City with her aunt, where a professional photographer took some pictures of her. Emerson Televisions bought one of these photos to use as advertising for their business. But that picture got a lot of attention and was used in national magazines for a long time.
After that, Brosmer started going back and forth between New York City and Los Angeles. In 1950, Brosmer and her aunt moved to New York City, where Brosmer continued her education at George Washington High School in Manhattan. She was also building up her photography portfolio at the same time. Over the next four years, Brosmer was on the cover of many popular magazines of the time.
Career in Modeling
She was also in books and magazines about romance and crime. Bette Brosmer has also won more than fifty beauty contests. All of this happened while she was still in her teens. Brosmer said, "I was made up to look like I was about 25 when I was 15."
People said that Brosmer had the perfect body for a model. With body measurements of 38 inches, 18 inches, and 36 inches, she became known as one of the most famous pin-up models with an "impossible waist."
Better Brosmer was not only a beautiful and successful model, but she was also very smart. She was the first model to ask for the rights to her pictures, which helped her become the best-paid American pin-up model of the 1950s. Brosmer also got into magazines like Time and Esquire, where she was written up.
Joe Weider's Entry Into Betty Brosmer's Life
When she worked with pin-up photographer Keith Barnard, Betty Brosmer became known all over the world. Barnard had worked with stars like Marilyn Monroe and Jayne Mansfield in the past. After signing this contract with Barnard, Brosmer became the best-paid model in the US. Based on her own website, Brosmer was on the cover of more than 300 magazines.
After she got married to American bodybuilder Joe Weider, Betty Brosmer's life took a turn for the better.
Why Did Betty Brosmer Become Betty Weider?
Through Barnard, Brosmer was able to meet Joe Weider, the man she wants to marry. She even posed for Weider magazine, which was in December 1956's Figure & Beauty. Slowly, she became Weider's favorite model, so they started working together more often. But because they were both interested in fitness, they got to know each other.
In the end, they got married on April 24, 1961. Then, people started calling Betty Brosmer Betty Weider. This was Joe Weider's second marriage. From his first marriage, he already had a daughter. Brosmer and Weider did not have any kids together.
Betty Weider's Life After Joe Weider's Death
Weider, Brosmer's husband, died in 2013 at the age of 93. Betty Weider is 85 years old, but she is in good shape. Even now, she is active in spreading the word about health and fitness through Shape magazine and by writing columns for Power and Beauty. Brosmer is also a member of the Olympic Fitness Committee as a member of honor.
The 86th birthday of Betty Brosmer Weider is coming up on August 2. We hope Brosmer, the Fitness Queen, stays healthy for the rest of her life.