Trent Crimm has been there since the first season of Ted Lasso, but the old hack has seen better days. After being let go from his newspaper at the end of season 2 of Ted Lasso for disclosing that Nate was a confidential source, he is now ready to begin a new phase of his life.
Trent, in the third season of Ted Lasso, requested if he could follow Ted and AFC Richmond for the year so he could write a book about their improbable triumph. Trent immediately accepted the craziness and fell in love with the Richmond faithful and the rest of the Ted Lasso ensemble because the show is a sitcom (and one of the greatest comedy programs now streaming).
However, in episode 6 of season 3 of Ted Lasso, we see Trent in a different light and learn something about him that we didn't know before. Is it safe to assume that Trent Crimm is gay?
Who is Trent Crimm From Ted Lasso?
American television series Ted Lasso has a fictitious character named Trent Crimm. He currently works as a journalist and football writer for the British publication The Independent.
In the show, he plays a cynical and caustic journalist who at first dislikes AFC Richmond's (a fictional English football team) new American coach, Ted Lasso. Trent Crimm's interviews with Ted Lasso and other characters throughout the series provide analysis of and insight into the team's actions and interactions. James Lance portrays the role on screen.
Is Trent Crimm From Ted Lasso Gay?
Yes, Trent Crimm in Ted Lasso is gay. While in Amsterdam, the former Independent sports writer revealed to Colin that he had spent his whole life hiding his sexuality from his family.
Trent acted in this way because he had seen Colin kissing his lover. Trent probably did this to make Colin feel more comfortable with his sexuality since Colin hasn't informed the other members of AFC Richmond that he's homosexual.
What is Ted Lasso About? Is It Based on a Real Story?
Character Development of Trent Crimm
Trent Crimm made his debut in Ted Lasso, where he played the role of a reporter for The Independent. When Rebecca was still bitter over her divorce from Rupert, she hired him to ruin AFC Richmond as payback.
Trent Crimm has shown significant development since his initial appearance on Ted Lasso. Once Ted's adversary, he is now his buddy and ally.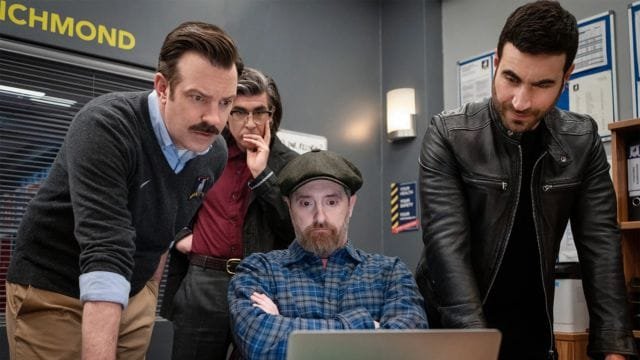 After being let go from The Independent and witnessing AFC Richmond's comeback to the Premier League, Trent has become an even more prominent character in season 3 of Ted Lasso.
Season 2 of Ted Lasso concluded with Trent's dismissal when he revealed to Ted that Nate had been his anonymous source for the article about Ted's panic episode. This perfectly exemplified his development. It was evident that he was committed to Ted and was finally prioritizing his ethics over his career.
Related: Is Boss Chaikamon Gay? Examining the Evidence and Speculation
If Trent were to reveal Colin's secret in Ted Lasso Season 3, it would go counter to Colin's development as a character and demonstrate that he is more interested in sensationalism than in the individuals he writes about.
Conclusion
Trent Crimm is a fictitious character in Ted Lasso who works as a journalist and football writer for The Independent. Trent Crimm in Ted Lasso is gay and has shown significant development since his initial appearance, becoming a buddy and ally to Ted. If he revealed Colin's secret, it would go against Colin's development.
We're hoping this content proves to be helpful to you… Wow, I really appreciate you reading this! Please let us know what you thought of the article by leaving a comment and sharing it with your friends if you did. Theshahab.com also features additional articles.