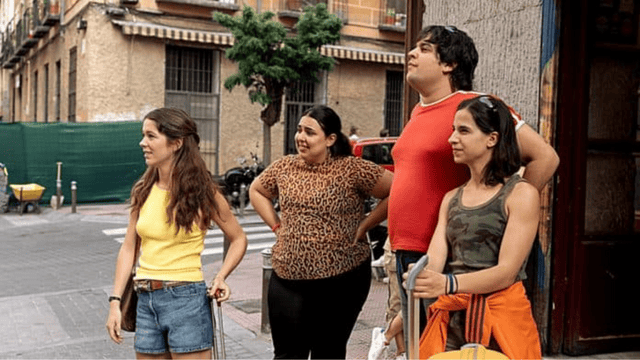 In Love All Over Again Ending Explained: How Do Julio and Irene Find Peace?
In Love All Over Again Ending Explained: The Spanish series "In Love All Over Again" on Netflix, which was originally named "Todas las Veces que nos Enamoramos," follows Irene, a film student and aspiring filmmaker from Castellón who moves to Madrid. Irene grows fonder of Julio, a budding performer in Spain's capital city, after his move there.
The developments that initially lead to them coming together and then threaten their relationship are explored in Carlos Montero's romantic serial. The first season of the drama, which stars Georgina Amorós as Irene and Franco Masini as Julio, concludes on a shocking cliffhanger with many mysteries yet unsolved.
'In Love All Over Again' Plotline
When the story opens, Irene is packing her bags to move to Madrid to attend film school, and she is contemplating ending her relationship with Fer. For successfully persuades her to stay with him despite the distance between them. When she first arrives in Madrid, she meets Da, Jimena, Adri, and Matt, all of whom she quickly becomes close to and eventually moves in with.
With the help of her housemates, she wants to direct a short film as well. During the premiere of Oscar Romano's latest film, Irene and Julio meet. They strike up a friendship during the after-show party, and she eventually approaches him about starring in her short film. They were on their way home from a party when a bomb went off on their train, sending them all to the hospital.
After the bombing, Irene goes back to Castellón to find Fer. Her parents, however, recognize how much she misses her life in Madrid, and they arrange for her to be returned there with the help of Da and Jimena. After volunteering to drive them, Fer finds Irene and Julio making out just as they are about to reach his hometown.
Fer ends their relationship, allowing Irene and Julio to start dating. Meanwhile, Romano has done some research on Julio and decided to use him in his next film. While starring in Romano's feature film, Julio also appears in Irene's short film and becomes an overnight success thanks to Romano's film.
With the intention of reconciling with Irene, Fer travels back to Madrid and strikes up a friendship with Jimena. A sexual relationship develops between him and his ex-roommate. girlfriend Fer has sex with Irene while Jimena mulls over a potential relationship with him. Jimena tells Julio that his girlfriend slept with her ex, breaking his heart, and Julio breaks up with her without explaining why.
Jimena becomes pregnant with Fer's child, but she turns down his marriage proposal. As Julio begins production on his next picture with a renowned director, he runs into Irene in an uncredited role. Despite the fact that he has trouble tolerating her at first. Because of Irene, he changes his behavior, and they are able to make up.
Read More: All the Places Ending Explained: Do Fernando and Gabo Reach Acapulco?
'In Love All Over Again' Ending Explained
How Do Julio and Irene Find Peace?
After leaving the set, Irene spends her days on the couch, but her feedback improves Julio's performance, ensuring the film's positive reception at the end. He brings flowers to Jimena at her apartment and with her guidance, he is able to express his regret to Irene.
He finally confesses his true feelings to her, and they reconcile, then spend their days making love to each other. Irene is attempting to start a new project but she just can't seem to come up with anything worthwhile. Julio is nominated for a Goya for best newcomer, and he and Irene have a wonderful time at a party after hearing the news.
How Do They Once Again Drift Apart?
One evening, after a few drinks, Julio returns home very wasted and gets into a confrontation with Irene over a comment he misunderstood she made regarding his nomination.
Since they don't spend much time together, she starts to wonder if everything is well; yet, he invites her to attend the awards event with him. She's beyond ecstatic, and she even buys a dress by a famous designer to wear.
After Julio picks her up that night, however, she changes her mind and says she doesn't want to be "some trophy girlfriend" who only goes to the Oscars because her boyfriend is a famous actor. He moves on with Adri instead, and Julio and Irene break up as a result. Irene is inspired to write a script, which she then pitches to Julio.
Related: 
Jimena's labor brings them together, and he apologizes to Irene and tells her that he actually liked reading her script. He claims that the only way he can truly appreciate the present is by being with her constantly.
What is Going on Right Now?
To make ends meet, Irene directs commercials, while Julio has only recently completed his first feature-length film. He extends an invitation to Irene, but she declines because the film he directed is based on an idea she had years ago. And while Jimena is Julio's representative, Da is still his friend. After Julio's film is panned and he begins a downward spiral towards drug use, they attempt reconciliation between him and Irene.
Irene rejects Julio's advances and instead announces her upcoming marriage to Fer. Da runs into her while she's still in town and breaks the news that Julio has been gone for a few days. He called Irene and was later found unconscious and overdosed at a party. The rehabilitation center where Julio checks in are conveniently located near Fer and Irene's home in Castellón.
Final Words
I hope you find out everything you need to know about "In Love All Over Again Ending Explained". If you found this post helpful, please forward it to your friends and family. Don't forget to share your ideas by replying to this post. Save our website so you can find more interesting posts.