Kit Harington Net Worth: Christopher Catesby Harington is an English actor also known as Kit Harington.
As Jon Snow in HBO's epic fantasy television series Game of Thrones (2011–2019), he gained international acclaim and several awards, including a Golden Globe nomination for Best Actor – Television Series Drama in 2019 and two Primetime Emmy nominations for Outstanding Supporting Actor in a Drama Series in 2016.
In this article, we will explore the net worth of Kit Harington.
Early Life of Kit Harington
Kit Harington was born in Acton, London, on December 26, 1986. His parents are Deborah Jane Harington and Sir David Robert Harington. Almost as soon as he was born, his mother shortened his name to "Kit." He didn't find out his full name until he was eleven years old.
Through his paternal grandmother, Harington's eight-great-grandfather was Charles II of England. Kit went to Southfield Primary School from 1992 to 1998. When Kit was 11, his family moved to the county of Worcestershire.
He attended Martley's Chantry High School till 2003, after which he attended the Central School of Speech & Drama and graduated in 2008. After seeing a performance of "Waiting for Godot," he grew interested in acting and went on to participate in other school productions.
Kit Harington's Career
He wanted to be a journalist at first, but he was cast in the first production of "War Horse," and his performance earned him international praise. This led to more professional theater work in the play "Posh."
Harington rose to international prominence after his role as Jon Snow in the hit HBO series "Game of Thrones." The show premiered in 2011 to widespread critical acclaim, and the network swiftly renewed it for a second season.
For his performance in the role, he was nominated for a Saturn Award for Best Supporting Actor on Television. He was nominated for an Emmy Award for Outstanding Supporting Actor in a Drama Series in 2016.
Harington's first film appearance was in "Silent Hill: Revelation 3D," a 2012 horror film inspired by the computer game "Silent Hill 3."
He was nominated Actor of the Year at the Young Hollywood Awards the same year. He portrayed Milo in "Pompeii," which was filmed in Canada, and was his first significant leading role in a feature film.
Harington voiced Eret in "How to Train Your Dragon 2" later that year. Harington co-starred in the critically panned 2014 film "Seventh Son" with Jeff Bridges. Harington's next endeavor was the HBO comedy "7 Days in Hell," a short film about a seven-day tennis tournament.
Kit Harington in Brimstone
In June 2015, Harington replaced Robert Pattinson in the western thriller "Brimstone." Harington played Salen Kotch, the main bad guy in the video game "Call of Duty: Infinite Warfare."
Later, he starred in a West End production of "Doctor Faustus" that was not well received. In February 2017, Harington created, starred in, and executive produced "Gunpowder," a three-part historical drama based on the real-life Gunpowder Plot. (His family has a long history with both sides.)
In November 2018, Harington made his West End debut in the play "True West," which was written by Sam Shepard and directed by Matthew Dunster. The play opened at London's Vaudeville Theater in November 2018 and ran until February 2019. Kit played Eret again in "How to Train Your Dragon: The Hidden World."
In the year 2020, Kit took part in a virtual performance of a scene from Chris Thompson's play "Burn." In September 2020, Harington will star in the Netflix anthology series "Criminal: the UK." Harington's first role in the Marvel Cinematic Universe was as Dane Whitman in "Eternals," which came out in August 2019.
The Kit Harington Net Worth
As of 2022, Kit Harington's net worth is estimated to be $14 million. That's a huge sum for an actor who burst into the mainstream and had great economic success with a single major television series.
RELATED TOPICS:-
How Much Did Kit Earn from Game of Thrones?
Parade magazine says that at the end of Game of Thrones, Kit Harington was one of the best-paid actors on TV. Harington reportedly made between $1.1 and $1.2 million per episode in the last two seasons.
For the first six seasons, Harington likely made $500,000 per episode. This means that over the course of the show's run, Harington made about $30 million.
Some people were upset that Harington made more money than his female co-stars. But Sophie Turner (Sansa Stark) says that the difference in pay is not unfair.
Kit Harington's Love Life
In 2011, Harington began dating his Game of Thrones co-star Rose Leslie. On September 27, 2017, they announced their engagement in The Times' 'Forthcoming Marriages' section.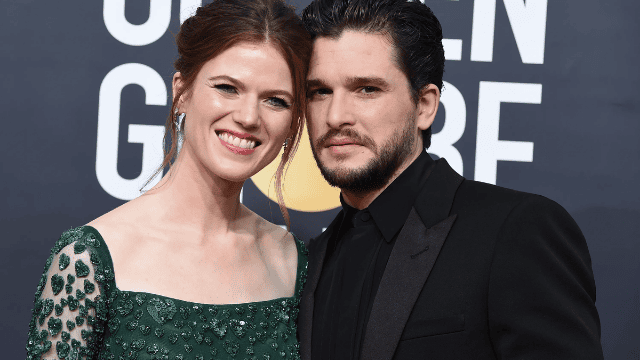 The wedding took place at Rayne Parish Church in Aberdeenshire, Scotland, on June 23, 2018. In September 2020, Leslie goes to a photoshoot for a magazine while she is clearly pregnant. The first time they saw their child was in February 2021.
Frequently Asked Questions
How Tall Is Kit Harington?
The Height of Kit Harington Is 1.73 Meters.
Who Is Kit Harington's Wife?
Kit Harington's Wife's Name Is Rose Leslie.