Although iPhones are one of the most popular cellphones on the market, some of their capabilities fall behind those of Android phones. The App Lock function is one among them. Apple's iPhones have never had this feature effectively integrated. However, there are a few solutions to this problem, and this post will show you how to Lock Apps on iPhone using various approaches.
Also, because Apple brings improvements to its iPhones with each passing year, where we see lots of new features. Now If we take the iOS 14 operating system, which brings a lot of improvements like better Home screen customization, redesigned widgets, a new app library, and much more. But iOS 14 lacks some basic features which are common in android phones. Taking up the app lock feature in iPhones which is not properly added.
Different methods to Lock Apps on iPhone
The methods are quite simple and are :
1. Lock Apps on iPhone using 'Screen Time'
if you want to limit the time you spend on using your iPhone, then Apple offers a feature known as Screen Time, which lets you put limits on digital devices.
First, go to Settings, then click on Screen Time on your iPhone.
If you want to set up a passcode that differs from your Lock screen passcode, then click on 'Use Screen Time Passcode' at the bottom of the menu. You can also choose to use the Face ID or Touch ID.
After setting up your desired passcode tap on 'Add Limit'.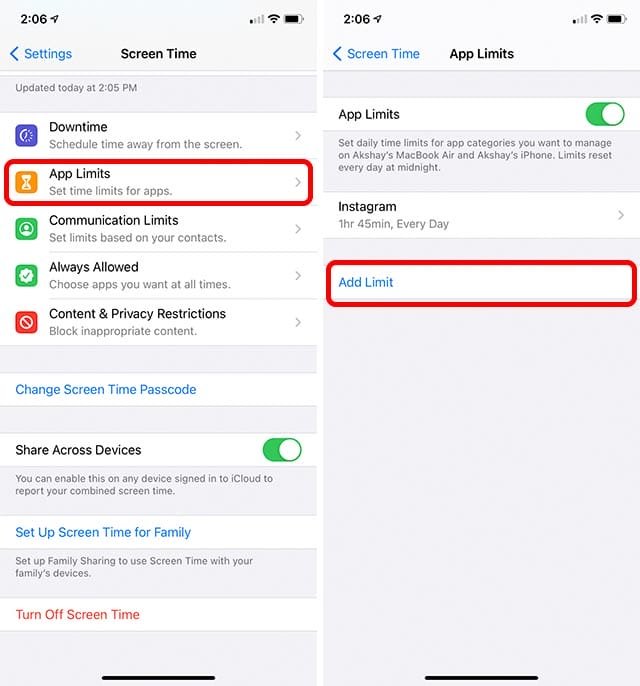 Now select the app you want to lock first by tapping on the category, then selecting the app you want to lock. For eg: suppose you want to lock Snapchat. To do this, first, tap into the 'Social' category and then select Snapchat from the list.
Then, tap 'Next', and set the time limit, and tap 'Add' on the top right corner of the screen. Make sure the 'Block at End of Limit' toggle switch is turned on.
Then your selected app will get locked on the preferred time limit you had set. You can also extend the time limit by clicking on 'Ask For More Time' and entering the passcode to disable it.
This method is pretty decent for locking your iPhone.
2. Lock Apps on iPhone using 'Content & Privacy Restrictions'
In iOS 12, 14, and 15, you can lock first-party apps using Screen Time. A first-party app is an App created by Apple, unlike third-party apps.
Open settings and go to Screen Time.
Then select 'Content & Privacy Restrictions'.
Tap on the Allowed Apps option.
Now turn off the toggle switches of the apps that you don't want to use.
You can now check if it is working.
3. Lock Apps on iPhone using 'Guided Access'
Besides the Restrictions feature, there is another way through which app lock becomes possible and that is using Guided Access.
Guided Access is a nuclear app lock option that prevents you from leaving the app that you have already opened. This feature becomes helpful when your child is using your phone and this feature ensures your child is not venturing elsewhere.
Follow the steps to use it:
Head over to settings, then go to General.
Then click on Accessibility and tap on Guided Access to turn it on.
After turning it on, tap on 'Passcode Settings to set up the passcode to use it.
Now to start Guided Access mode, simply launch the app you want to restrict and tap the Home button three times.
Your phone would be restricted to the app that you are using currently. Further, you can restrict the usage of certain app features.
If you want to exit the Guided Access mode, just tap the Home screen three times and type in the passcode.
4. Lock Apps on iPhone using Siri Shortcuts
You can use Siri Shortcuts too. Just follow the steps:
First, open the Shortcuts app on your iPhone and create a new shortcut.
Then tap on 'Add Action', and in the search bar type 'Ask for Input', and select it.
After that, choose between the 'Text, Number, URL, Date, Time, Date and Time'. Suppose you chose Number as the input. And along with it, add a prompt for the passcode by tapping on 'Prompt' and typing in anything you want.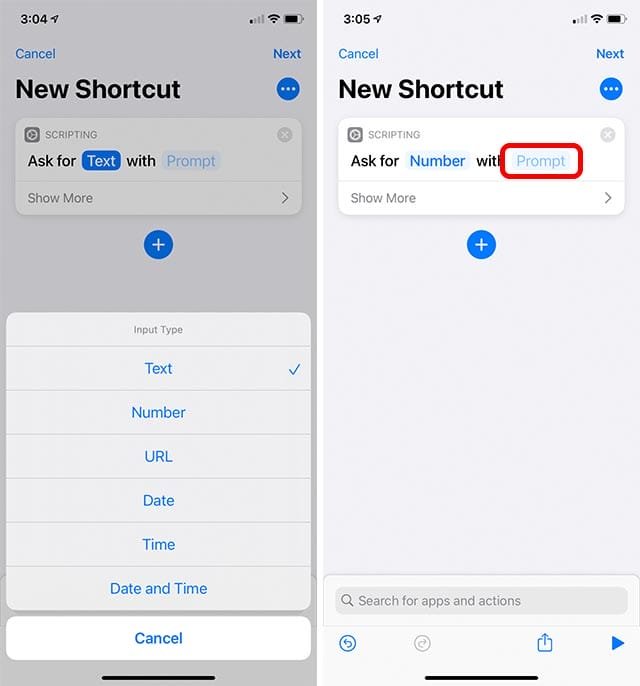 Now, add another action and search 'If' and add it to the Shortcuts.
Then tap on 'Condition' and choose 'is'.
Again, tap on' Number' in the first action and type in the password you want to put. For eg: you typed 1234 as the password then 'I would suggest not to use such password'.
  So the basic setup has been done. Let's finish up the rest of things.
Add a new action named 'Open' to the shortcuts and drag it between the 'If' and 'Otherwise' blocks.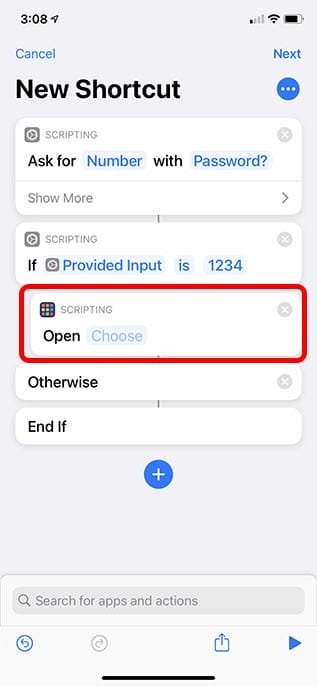 Now choose the app you want to lock. For eg: you choose the calculator app.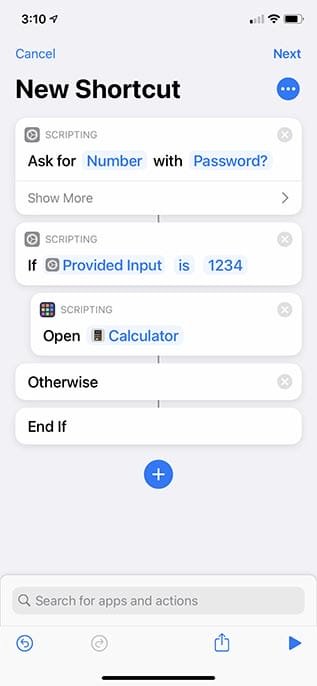 And it's done, the Shortcut is workable now.
But wait what would happen if someone tries to open our app? We would like to find out who tried opening the app. So, let's add some traps to catch the intruder.
Adding some traps
Add another shortcut and search for 'Take photo' and change 'Back' camera to 'Front' camera.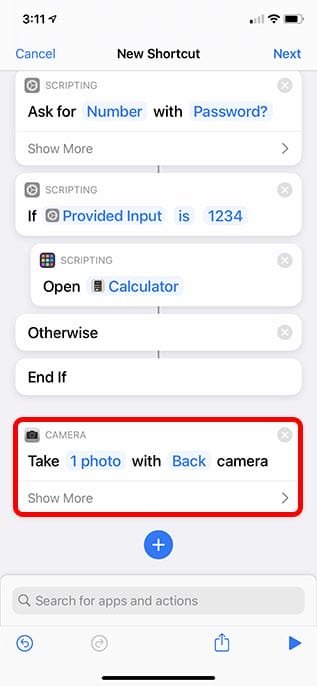 Tap on 'Show More' and disable the toggle switch, which says 'Show Camera preview'.
Now drag the action 'Take Photo' between the 'Otherwise' and End 'If' blocks.
Next, add a new action 'Save to Photo Album' to your Shortcut and drag it below the Take Photo block.
So now if someone enters the wrong password, your iPhone will click a photo of the intruder from the front camera without his knowledge and save it to the Recent album. The Shortcut is almost ready. All we need to do is replace the actual app icon with our Shortcut icon and place it on the Home Screen. Let's do it.
Tap on 'Next' at the top right corner and give your Shortcut a name. For eg: you named it Lockit, after that click on Done.
Now open the Shortcut from your Shortcut Gallery and tap the 3- dot icon. And Select 'Add to Home Screen'.
One more thing is left that is naming the Shortcut to the name of the app which you have locked and changing the icon to the app icon. After that tap on 'Add' to see the Shortcut appear on your Home Screen.
Everything is done. Whenever you tap on this Shortcut, it'll ask for the password. Simply enter the correct password to access the app.
And if any intruder types in a wrong password, it'll take a picture of the intruder and you will be able to see who tried to sneak in.
5. Using Third-party tools
This is the last option to lock apps in iPhone directly. However, I don't recommend this option to you. Because to use third-party tools your iPhone must be jailbroken (security vulnerabilities and performance issues) simple meaning to remove all restrictions from your iPhone.
Some popular third-party apps include BioProtect, Locktopus, and Applocker. These apps can be downloaded using the Cydia platform. Read how to lock apps using BioProtect and Applocker.
TuTorial Video For Locking The Apps In IPhone:
Below We are Providing you the Tutorial Of How you Can Lock the apps. Do Watch it.
Tell us in the comment which method you applied to lock your app on your iPhone. And If you want more tips and tricks like this, then head over to Theshahab.com