The Most Popular Game | Genshin Impact Cosplay, Why Don't You Try It?
The Most Popular Game | Genshin Impact Cosplay: Looking at the game rankings for 2021-2022, the game Genshin Impact has been firmly in the top 10.
Players will play a mysterious character named "Traveler", meet companions with different personalities and unique abilities during free travel, and join them in defeating powerful enemies and finding lost relatives – while gradually discovering the truth of "Genshin Impact".
By March 2022, Genshin Impact has released a total of 46 characters. If you are playing this game, there must be a character you want to role-play. This list will select the most suitable costume for you to role-play Genshin Impact.
Top Cosplays of The Genshen Impact
The Cutest King of Destruction – Keli
mgcosplay0
$70.15
Keli is a destroyer in Genshin Impact, with a cute and lively personality. Her cosplay costumes are also cute, with a whole set of matching, including hats, dresses, shorts, gloves, scarves, and earrings, and also You can buy them together with her cute backpack of the same style so that the degree of restoration will be higher.
This costume is also great for Halloween, cosplay, fun, themed parties, even for everyday use or any other occasion is fine
The Sickest Nun – Rosalia
mgcosplay0
$116.31
Rosalia is a nun under the Zephyr Church in Mond City. Just looking at her appearance, Rosalia could be considered a clergyman, but her usual words and deeds did not have the demeanor that a clergyman should have.
She has less reverence for God than ordinary Mond citizens, and she never participates in activities organized by the church on weekdays.
This cosplay costume completely conforms to Rosalia's temperament, the overall style is biased toward the dark royal sister, and the style of the clothes can also be seen as a priestly style.
This cosplay costume contains scarves, bodysuits, and belts. , gloves, armbands2, leg straps, hand straps2, belts*2, waist accessories, eyesight, and you can also match them with black fishnet socks, which will look sexier.
The Most Mysterious Girl – Sheffield
bestofkawaii.com
$ 261.99
Self-proclaimed "Prince of Conviction", a mysterious girl who walks with the dark night crow named Oz, Fischer is a traveler from another world of Genshin Impact, good at using lightning skills, she wears a blindfold, you can see that she is mysterious of.
This cosplay Sheffield costume perfectly restores her appearance in Genshin Impact, with different styles of sleeves, and a large bow on the front collar. The details are also well handled. The clothes are printed and the collar is leather. Wearing it feels like entering Genshin Impact.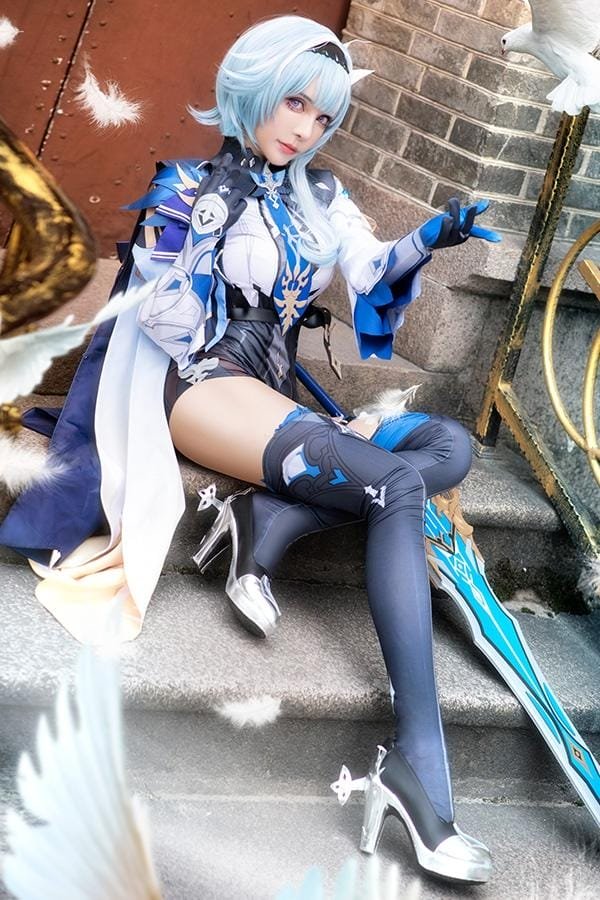 The Greatest Knight-Yura
mgcosplay0
$131.69
Yula is a "Spider Knight" who fights outside all year round, a descendant of a rebellious old nobleman. She is very brooding about her identity as a descendant of the old nobleman.
This cosplay contains bodysuits, fake collars, capes, chest clips, socks, pendants, sleeves, gloves, headwear, headbands, and accessories. Showing Yula's handsome knight image, the layering is very clear, but these clothes are not recommended for machine washing.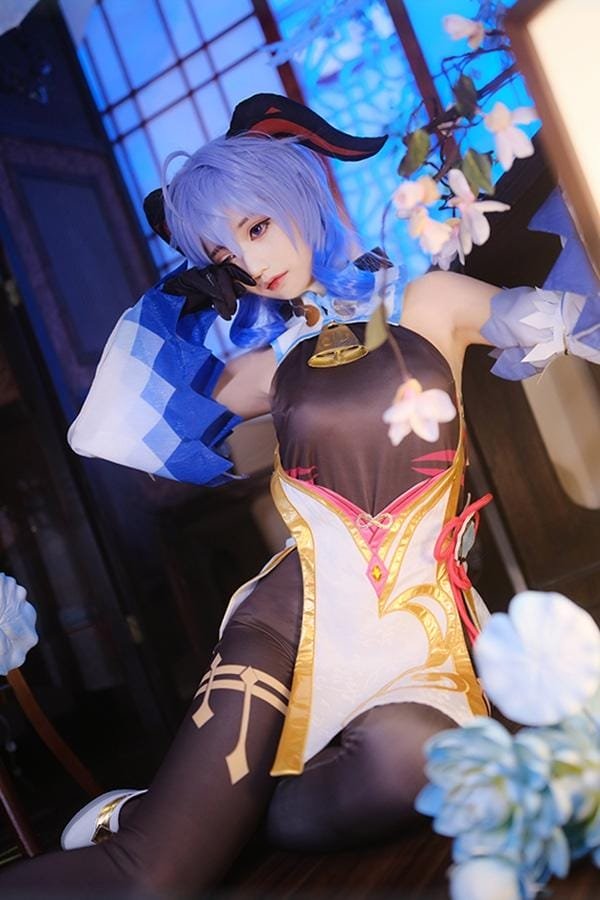 The Most Workaholic Half-immortal – Gan Yu
mgcosplay0
$116.62
Possessing the body of a demigod, his physical strength flows through the blood of a unicorn. He is a slender workaholic with an elegant and demure nature, but the gentle temperament of the fairy beast "Kirin" has no conflict with his firm and resolute work attitude.
This cosplay Gan Yu's costume includes a bodysuit, skirt, sleeves, waistband, back bow tie, headdress, pantyhose, back waistband, neck bell, gloves, and straps*1. The whole dress is made of satin. The main body, and the accessories on her body are perfectly separated.
The Hall Master of the Most Oiled Poet – Walnut
mgcosplay0
$81.75
Butternut is a female Fire character in the Liyue region in Genshin Impact, using a polearm. Her identity is the hall owner of the Hall of Rebirth, and she is also a poet who plays oil. Many "masterpieces" have been passed down by Liyue from mouth to mouth.
This cosplay walnut costume contains a hat, detachable collar, coat, shorts, back bow, socks, leg ornaments, rings*8, which are very carefully disassembled, and even the unique rings on the hands. The fabric of the entire costume is made of its polyester, cute and playful.
One of the most Determined Seven stars – Ke Qing
mgcosplay0
$88.62
Keqing is one of the seven stars of Liyue in Genshin Impact, Yuhengxing, who is quite critical of "Liyue who decides with the emperor's words" – but in fact, God appreciates people like her.
This cosplay Keqing outfit includes a dress, sleeves2, outer skirt, tights, gloves, headgear2, necklace, pectoral, waistband*4, the whole is based on purple, and the fabric is made of polyester fiber. Love this cosplay costume, it makes me look like a classy lady.
The freest and easy samurai – Fengyuan Wanye
miccostumes.com0
$107.99
As a ronin samurai who was born as a wife of rice, Kaedehara Manye is modest and docile. There are many past events buried under the young and unrestrained appearance. It seems casual, but he has his own rules of conduct in his heart.
Fengyuan Wanye's short white hair was tied into a short braid at the back of his head. There are red and black scarves on the neck, and the clothes have maple leaf elements on them. The overall style is very capable and self-cultivating. Black and red clothes are forever classic styles. There is no obvious personality division in Fengyuan Wanye's clothes style. Boys and girls can wear handsome styles.
The most responsible domestic officer – Thomas
rolecosplay0
$98.52Coupon
Thomas is the housekeeping officer of the game "Genshin Impact" club who pursues the family of the gods and is also a "snake" who is active in Inami. Friendly and approachable, and very responsible, take a very serious side in both work and interpersonal relationships
This cosplay costume includes a coat, t-shirt, pants, belt, fanny pack, gloves, armor, necklace, accessories, headgear, leg wraps, and socks. The overall color tone is red and black, and the material is similar to a uniform.
Conclusion of Genshen Impact Cosplay
Well, the above is the cosplay in the Genshin Impact game. If the full score is 100 points, how many points are you willing to give?