10 Demonic Family Horror-drama Films to Watch After "Hereditary"!
Hereditary, the first feature film directed by Ari Aster, features a terrifyingly unique brand of horror. After making its debut at Sundance in the winter of 2018, it was released in the United States to widespread acclaim, earning high marks from critics and even acing the notoriously unforgiving review aggregator Rotten Tomatoes.
Despite its horrific events, extended mourning scenes, and repeated stabbings, Hereditary manages to be a surprisingly compassionate film. It seeks to illustrate the importance of family, the fragile web of circumstances that keep us connected to our loved ones, and the misery that is the backbone of each good horror picture but is rarely given this much depth elsewhere.
Those of you who enjoyed Hereditary will be interested in both the good and the terrible. Unfortunately, this film is unique in its kind. Due to its singularity and visual impact, it will be impossible to fully replicate the original viewing experience.
\The good news is that you can find treasures that will spawn their own networks of related films simply by casting a glance down the horror aisle in search of anything comparable. It's like trying to make sense of a tangled family tree or like going in circles to reach your inheritance.
1. The Witch
In 1630, when the events of The Witch are set, the world was preoccupied with black magic, possession, and witchcraft. When members of the same family are exposed to paranormal forces, they tend to blame the chaos on one another. When their youngest child vanishes without a trace, the family turns to their eldest daughter for answers, which only leads to more confusion.
Although there aren't many outright terrifying moments, the gradual escalation of tension ensures that every possible outcome is terrifying. The film uses tried-and-true techniques, establishing a sense of mystery gradually before unveiling a terrifying series of turns. Even for dedicated horror movie watchers, The Witch's climax will be too much.
2. The Babadook
We follow a widowed mother as she adjusts to life without her husband. The mother initially doesn't trust her son's assertion that monsters are hiding in every room. However, she quickly learns that there is more to his story than initially appears.
The goal of The Babadook is not to terrify its audience with cheap thrills. Instead, it emphasizes some of life's worst aspects: isolation, loss, and despair. These feelings are at the heart of the novel, which combines them with horror to create a chilling new genre.
In her role as a single mother who may be delusional, Essie Davis gave an outstanding performance. She expertly dramatized the challenges faced by single mothers in the film industry.
3. Don't Look Now
Watching the movies that served as influences is a great approach to getting more out of the picture. A key inspiration for "Hereditary" was the 1978 thriller "Don't Look Now," directed by Nicolas Roeg (who also directed "The Man Who Fell to Earth" and "The Witches").
Donald Sutherland and Julie Christie play a mourning couple whose daughter drowned on the family property in this film based on a short tale by Daphne Du Maurier (the same Du Maurier whose writing was previously adapted by Alfred Hitchcock into "Rebecca" and "The Birds").
Read More: Top 10 Movies Like Ready Player One: Don't Miss!
4. The Wailing
If you can get past the 1-inch-tall barrier of subtitles, you'll be exposed to so many more fantastic films, as South Korean filmmaker Bong Joon-ho famously said in his Golden Globes acceptance speech after "Parasite" won the prize for best foreign language film in 2020. He was dead on, and horror is no different.
Na Hong-"The jin's Wailing," much like his earlier "Hereditary," is a masterful piece of mystery and fear. The 2016 movie follows the story of an unknown Japanese man who mysteriously appears in a small Korean town and causes widespread illness and violence. As a local cop investigates, members of his own family get mixed up in the disturbing scheme.
5. Midsommar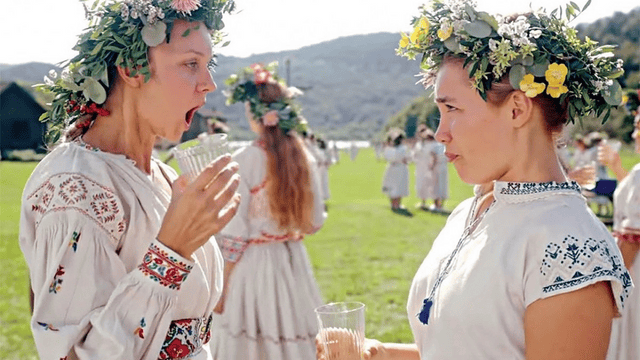 It's safe to assume that fans of Ari Aster's twisted vision in Hereditary will also enjoy his next movie, Midsommar. Even though Midsommar is a lot brighter than Hereditary, the picture has an equally gloomy tone.
The film makes observations on suicide, heartbreak, empathy, and the darkness of sadness through its portrayal of a group of friends who come to Sweden to party while researching the cultural anthropology of midsummer celebrations. Character dynamics, existential dilemmas, and stunning compositions are all hallmarks of Aster's unique style.
Related: Here are the Top 10 TV Shows Like Kaleidoscope to Watch in 2023!
6. Suspiria
The production design is a key element of what makes Hereditary stand out. Locations as seemingly banal as homes and schools are never without intriguing visual and environmental components that match the film's dark color scheme and playful symbolism. Aster's movie is filled with random objects like elaborate dollhouses, the picturesque tree house, and the roaring fire. Suspiria, directed by Dario Argento, is the best horror picture ever made at creating a unique visual identity that fully immerses the viewer in the film's world.
It's a classic of the Italian Giallo genre, and it follows dancer Suzy Bannion as she enrolls in a prestigious ballet school in Germany, only to discover that it's actually a coven of witches. Suspiria is artfully designed to appear disturbing, gloomy, bloody, and cutting edge. Like Hereditary, it is a vibrant and aesthetically fascinating film that doesn't shirk from juxtaposing gruesome elements like maggots with stunningly beautiful sequences. Check out Luca Guadagnino's excellent Suspiria remake from 2018 if you enjoy the original.
Also Read: Top 10 Lesbian Shows on Netflix: Find Out Here!
7. The Conjuring
The Conjuring is based on the true story of paranormal investigators Ed and Lorraine Warren, who try to aid a family that is being haunted by a demonic force.
It's safe to say that The Conjuring is one of the most profitable horror films of all time. The film earned more than $300 million at the box office and received positive reviews.
The fact that The Conjuring is inspired by real events only adds to its chill factor. Many people have benefited from the Warrens' work as real-life paranormal investigators. The film benefits from excellent acting and direction. It's a top-tier horror flick, for sure.
8. The Shining
The Shining is a film adaptation of Stephen King's novel of the same name, which follows a man who accepts a position as the hotel's caretaker and gradually becomes insane while working at a remote hotel.
One of the most widely-viewed film adaptations of a Stephen King novel is The Shining. Both the press and the public have found it to be highly laudable.
It's been a long time since the film was released, yet it's just as terrifying now as it was then. A protagonist is a man who gets a job as the hotel's caretaker in a remote resort and gradually becomes insane. Especially impressive is Jack Nicholson's performance as the protagonist. The film is also expertly directed.
9. The Lodge
The Lodge is an absolute must-watch for Hereditary devotees. There are many unsettling similarities, from minor oddities like the incorporation of miniature buildings and people who appear at key times to convey plot information and tonal shifts to more substantial ones like the fluidity of gender roles at home, the difficulty of dealing with loss as a family, and the gradual dissolution of reality.
The opening sequence of The Lodge, directed by Veronika Franz and Severin Fiala, is brisk and emotionally exhausting. When Laura Hall (Alicia Silverstone) learns that her ex-husband Richard Armitage plans to marry a lady he met while studying a Christian sect that committed mass suicide, she takes her own life.
10. It Follows
It Follows, which had its world premiere at the Cannes Picture Festival in 2014 and a wider release in the United States in 2015, is another sleek, modern horror film focused on building a narrative of estrangement and sacrifice. David Robert Mitchell's It Follows is an artistic take on a standard motif of the slasher film: the instant and brutal punishment meted out to any character shown having sex on screen.
The film has an ensemble cast led by Maika Monroe, including Keir Gilchrist, Daniel Zovatto, Jake Weary, Olivia Luccardi, and Lili Sepe. Its protagonists are young people who, in order to free themselves and each other, must break a sex curse.