Strange New Worlds Season 2: Who Is Returning for Season 2?
Star Trek: Strange New Worlds takes place between the early seasons of Star Trek: Discovery and the original series that started it all. It features both new and old characters, like Anson Mount's Christopher Pike in the captain's chair.
Fans and critics have loved this spinoff from the start, so Paramount did the right thing by renewing it before the first season even started.
But what exactly does this future look like? Set your phasers to stun as we go on an adventure to find out everything you need to know about season two of Star Trek: Strange New Worlds.
Who Is Returning for Star Trek: Strange New Worlds Season 2?
Most of the important characters from the first season will be back, including:
Christopher Pike is played by Anson Mount
As Spock, Ethan Peck
Christine Chapel, played by Jess Bush(Instagram)
Christina Chong as La'an Noonien-Singh
Nyota Uhura is played by Celia Rose Gooding.
Melissa Navia as Erica Ortegas
Babs Olusanmokun as Joseph M'Benga
Rebecca Romijn plays the role of Una Chin-Riley/Number One.
But Hemmer's tragic death in episode nine of season one makes it look like Bruce Horak won't be joining them.
Read More:
Horak talked to Collider soon after about how his character's sacrifice was a good thing. "He's about to blow up with Gorn, and the only way to stop that is for him to die. "I think that's a great way for the character to come full circle," he said.
"Showing that sacrifice is what Starfleet is all about—giving up yourself for the people you care about. That beautiful lesson to Uhura feels like all the little loose ends have been tied in a pretty bow."
Strange New Worlds Season One was an absolute triumph. Casting, performances, writing, themes, set design, lighting, cinematography, you name it. This show has been a light in the darkness. #StarTrek #StrangeNewWorlds pic.twitter.com/EVJldajSnU

— Iris Jade Grimm (@IrisJadeGrimm1) July 3, 2022
Is the New Star Trek Show Doing Something Wrong?
Thanks to Vampire Diaries star Paul Wesley, who will soon show up as a young James T. Kirk, the ship won't be without a crew member for long.
In a statement, Alex Kurtzman, the show's executive producer, Akiva Goldsman, and Henry Alonso Myers, who are in charge of the show's running, and Henry Alonso Myers, who is in charge of the show's writing, said, "Paul is a skilled actor with a stunning presence who will be a "He's been a Star Trek fan his whole life, just like all of us, and we're excited to see how he plays this iconic role."
Wesley spoke to TVLine about his surprise early appearance in the season one finale and what he brings to Kirk in his version of the character:
"There are things about James T. Kirk that you can't ignore, like his courage and instinct. He cares more about his crew than about anything else. He draws people to him. People are attracted to him and trust him.
Wesley added, "I had to be aware of those traits, but I couldn't just act like William Shatner. His interpretation and what he did are very important, and I think it would be rude to do this modern-day Shatner impression all of a sudden. It should have been a different character, one that didn't make fun of the original Kirk.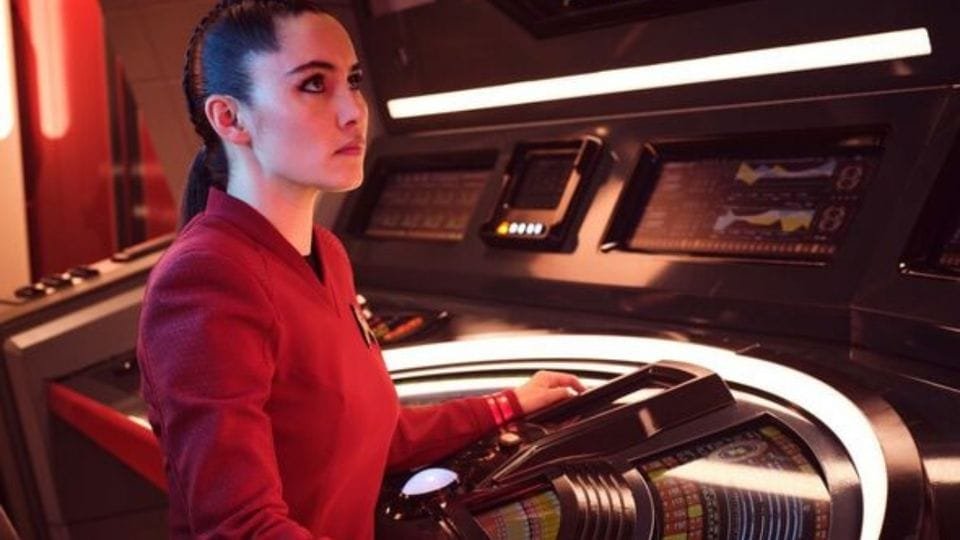 What Will Happen in Star Trek: Strange New Worlds Season 2?
"If you liked season one, season two is a whole new level," star Christina Chong told Deadline recently. "Well, we're getting scripts, and everything Henry and Akiva have made blows us away. If you liked the first season, you're going to go crazy for the second!"
Co-star Celia Rose Gooding agreed and added, "The cast has been talking, and we say that season one was definitely a meal, but we feel like we have so much more this season. So everything is multiplied by itself."
In a recent interview with ScreenRant, Melissa Navia was just as excited to talk about season two. She said, "In season two, we're going to go to places you didn't expect and couldn't expect, but you're going to be really glad we did."
"People are already talking about season three, but I'm still trying to figure out what's going on in season two. We're getting close to the end." Still to come are some of the biggest scenes we've shot so far, especially for me. So, a lot of fun."
More About Strange New World Season 3
Executive producer Akiva Goldsman talked to Deadline right after the season one finale aired. Together, they talked about why that episode would have made a good series finale and how this now sets up future episodes in season two:
"Don't forget that we made this show before we knew if anyone would like it. So even though the promise of more is there, right? But at the same time, the episode is finished for me."
"At the same time," he said, "the fact that we're coming back does leave the door open for the story to go on." By the way, it does go on into Season 2, but we didn't know that when we made it.
"So in a way, it was our attempt to wrap up the storyline that started it, and if we had only been a one-season show, we would have been proud to end it that way," he said.
Goldsman seemed hopeful when asked about the possibility of future crossovers with other Star Trek shows like Discovery and Picard.
"I'll just say this: we all love the idea of crossovers. So when and if they happen is still up in the air, but we're looking really hard, and I hope we'll be able to answer "yes" to that question very soon."
When Will Star Trek: Strange New Worlds Season 2 Be Released?
Star Trek: Strange New Worlds Season 2 has not yet been given a release date. It has gotten good reviews for how it tells its stories and who is in them. The second season is now being made, and it's likely that it will be expected to come out in 2023. Maybe, like the first season, it will be on Paramount+. Let's wait and see what comes next.
The first season of Star Trek: Strange New Worlds started on Paramount+ on May 5, 2022, and ran for 10 episodes until July 7, 2022. It has been praised by critics for its cast and the way it tells stories one at a time.
Trailer for the Second Season of Star Trek: Strange New Worlds
This season doesn't have an official trailer.
Read More: 
Frequently Asked Questions
Will There Be a Second Season of Strange New Worlds?
Sci-fi fans, get ready to get excited: Star Trek: Strange New Worlds is getting a new season. After a first season that did very well, a second season has already been set.
Who Plays James T. Kirk on Strange New Worlds?
In March, it was announced that Paul Wesley, who used to be on "The Vampire Diaries," would play a young James Tiberius Kirk in the second season of "Star Trek: Strange New Worlds." But — SPOILER ALERT — Wesley's Kirk made his first appearance in the season 1 finale, which came out Thursday on Paramount+.
Is Strange New Worlds a Reboot?
Star Trek: Strange New Worlds might look like a new start, but it's actually a direct continuation of Star Trek: Discovery season 2.
Check out our site by clicking here to learn more about upcoming movies and other things.