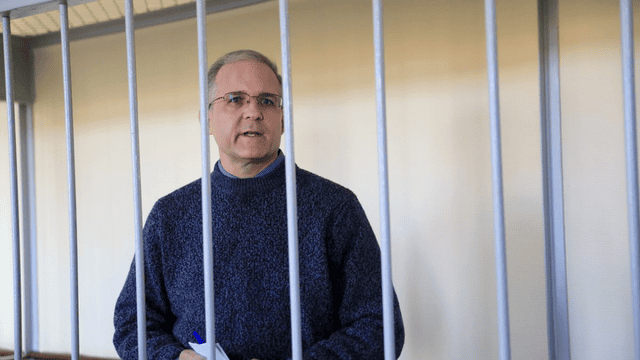 Who is Paul Whelan? Why Was He Arrested by Russian Police?
After the recent news on Brittney Griner who was detained by Russian police in a drug case, a Question came into everyone's mind "Who is Paul Whelan?". It is so because Brittney was swapped with the popular drug dealer Viktor Bout. And people start asking why did not Paul Whelan be part of this exchange.
According to official media reports and the American embassy in Moscow, a former U.S. Marine who had been detained in Russia on suspicion of espionage had been given a 16-year prison term on Monday.
Paul Whelan, a citizen of the United States, the United Kingdom, Canada, and Ireland, was imprisoned in the Russian capital at the end of December 2018. He was charged with espionage, which he vigorously disputes.
In this article, we will give you the answer to the Question "Who is Paul Whelan?", "Why was Paul Whelan Arrested?" and "Where is Paul Whelan Now?" Read this article to find out everything you need to know. Also, if you thought this article was helpful, please let us know. Your comments are important to us.
Who is Paul Whelan?
Paul Whelan was born in Canada, but he has U.S., British, Irish, and Canadian citizenship. His Full name is Paul Nicholas Whelan. He used to be a Marine in the U.S. Whelan was born in Ottawa, Ontario, Canada, on March 5, 1970. His parents were British and had Irish roots. Paul has a twin Brother. Paul Whelan also has a brother named Andrew and a sister named Elizabeth in addition to his twin brother.
From 1988 to 2000, Whelan was a police officer in Chelsea, Michigan, and a sheriff's deputy in Washtenaw County, according to a deposition he gave in 2013. From 1990 to 1996, the Chelsea Police said he worked in smaller roles and as a part-time officer, but the Washtenaw County sheriff said there was no record of him working.
In 1994, he joined the Marine Corps Reserve. From 2003 through 2008, he took a leave of absence from Kelly Services to serve in the Marine Corps Reserve, which included time spent in Iraq. He participated in Operation Iraqi Freedom while serving as a staff sergeant with Marine Air Control Group 38 as an administrative clerk and administrative chief.
After being found guilty by a court-martial in January 2008 on several crimes "connected to stealing," he was given a 60-day restriction, a pay cut to E-4, and a bad conduct discharge.
He was accused of "attempted larceny, three specifications of dereliction of duty, making a false official statement, using another person's social security number improperly, and ten specifications of making and uttering checks without having sufficient funds in his account for payment," according to the specific charges brought against him.
Why was Paul Whelan Arrested?
Whelan was taken into custody by the Russian Federal Security Service (FSB) in the Moscow area on December 28, 2018. The FSB later confirmed that Whelan had been taken into custody. MBK News says that during a customs check at Domodedovo Airport, $80,000 in cash was "temporarily seized" from Whelan.
Whelan was caught in his hotel room at the Metropol at the end of a long trip with a Russian citizen, who gave him a USB drive with "a list of all the employees at a classified security agency."
Marine Paul Whelan & school teacher Marc Fogel contribute more to American society than a weed-smoking basketball player who promotes anti-American sentiment. Whelan and Fogel should have been our priority. But that's not how America works in the era of #CRT & #DIE #Griner pic.twitter.com/sfpnQQ8sYa

— Jason Whitlock (@WhitlockJason) December 8, 2022
On that day, his longtime friend showed up at the hotel without warning, followed by police officers who later arrested him. The Name of the friend was not disclosed due to security reasons.
CIA officers denied that they did not recruit any office with the marine records.
Paul Whelan called CNN and said, "I'm very upset that more hasn't been done to get me out, especially since it's been four years since I was arrested." He also said, "I was arrested for a crime that never happened." If You have read the article from the start to this point you have come to know Why he was Arrested.
Where is Paul Whelan Now?
On June 15, 2020, a court in Moscow found Whelan guilty of espionage and gave him a sentence of 16 years in a Russian prison. His lawyers said they thought Russia would now try to trade him for another prisoner.
Whelan was first held at Correctional Colony No. 18 under the watch of the Federal Penitentiary Service of the Russian Federation. In December 2020, he was being kept in a high-security prison called IK-17, which was eight hours southeast of Moscow.
He is still In prison. Whelan's brother agreed with the decision to "make the deal that could be made instead of waiting for one that wasn't going to happen."
After talks, on December 8, 2022, only Griner was traded for Bout. The Kremlin had refused to free Whelan and given the Biden administration an ultimatum: free Griner or no one.
Why Is Paul Whelan on Top News?
In February, airport workers at a Moscow airport found vape canisters and cannabis oil in the Bag of Brittney Griner and took her into custody. She was sentenced to nine years in prison in Russia because she brought drugs into the country without permission.
CBS News was the first to report Thursday morning that her release was negotiated in exchange for the release of "The Merchant of Death," a Russian arms dealer named Viktor Bout.
Bring Our Families Home helped Griner's family ask for her to be let go. Russia freed Griner on December 8 in exchange for an arms dealer named Viktor Bout, who was known as "The Merchant of Death."
This is what foreign nations think of us… you know the worst part? They're right. Do not believe the WH when they say they couldn't get Marine Paul Whelan out. That is total and utter BULLSHIT! pic.twitter.com/AulZMMKWiq

— GaryTurboUltraMAGA (@GaryOcalaBuck) December 10, 2022
People on social media now target the Biden Administration for not exchanging the Paul Whelan. Instead, they swap the Brittney Griner with Viktor Bout.
A senior U.S. official said that the U.S. government had tried to get both Griner and Whelan released as part of a swap with the Kremlin. The Kremlin wanted the return of Viktor Bout, a Russian arms dealer who has served 11 years of a 25-year sentence in the U.S.
But the official said that Russia has treated Whelan differently because he is accused of spying and that after different options were suggested, the Kremlin gave the White House the choice of Griner or no one.
In the above article, we have discussed "Who is Paul Whelan". Hope we are able to resolve your all queries and if you like this article please support us and visit our site "The Shahab".