The highly- awaited crime-thriller Scream 5 is set to hit theatres in the year 2022 and here's all we know about the upcoming sequel.
In the shadows, Ghostface wields a blood-spattered Buck 120 knife, his signature weapon. The newly announced poster reveals a message that has been proven true throughout all four installments. "It's Always Someone You Know," the motto is calling out to the other Ghostface killers who were found to be initially trustworthy or reliable characters.
If you're a real fan of the franchise you'll get the hint in 1…2…3… There you go! Yes, I'm referring to Billy (Skeet Ulrich), Jill Roberts (Emma Roberts), and several others. They surely fooled all of us and like me, no one suspected Emma Roberts could hurt a fly, let alone be a murderer on a hunting spree.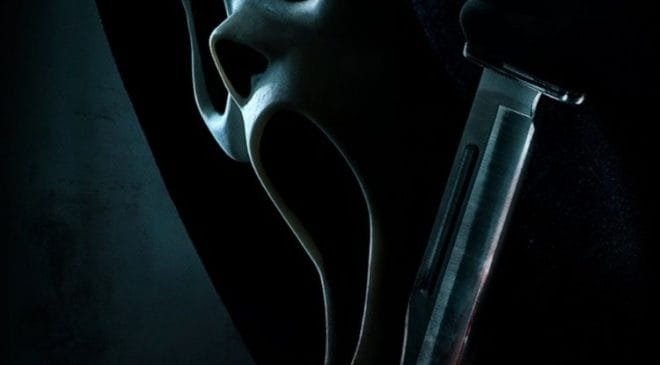 Scream 5 Release Date
According to Spyglass Entertainment, the newest installment in the storied Scream franchise will hit theatres on January 14, 2022. However, the fifth installment will not be called Scream 5, but rather as Scream instead. The title change alludes to Halloween 2018, and rumors are Scream 2022 intends to achieve something similar to the 2018 installment. It's not a total restructure of the story, but rather the start of a new arc for the franchise.
On January 14, 2022… We're going to hear you SCREAM. 😱 pic.twitter.com/X83ENIj3Hm

— Scream (@ScreamMovies) August 29, 2020
Scream Movie Plot and Storyline
It's difficult to guess the Scream 5 plot without knowing the entire cast. So far, the only official description of Scream 2022 is generic and vague saying the plot follows "a young woman who returns to her old hometown, only to encounter horrific murder cases linked to a notorious masked serial killer." However, this could just be a misdirection, and Sidney(A character featured in previous installments) could end up playing an important role in the arc in some other way.
Scream 2022 Cast
According to reports, Scream 2022 will bring back the original trio of surviving victims from the first four films while also introducing new faces to the franchise. It also means that David Arquette, Courteney Cox, and Neve Campbell will all be returning in their roles as lawmen Dewey Riley and dogged journalist Gale Weathers, respectively.
Also on the wish list of many Scream 4 viewers is Hayden Panettiere's Kirby Reed, who was last seen in Scream 4. Sheriff Judy Hicks, played by Marley Shelton in Scream 4, will also be making an appearance.
So far, Melissa Barrera (from In the Heights), Jack Quaid (from The Boys), Mason Gooding (from Booksmart), Dylan Minnette (from 13 Reasons Why), and Jenna Ortega (from You) have joined the cast, along with Jasmin Savoy Brown, Kyle Gallner, and Mikey Madison. For these three currently, we have no idea what roles they would be playing.
We're no stranger to classic Scream movies, we grew up watching the scream, Nightmare at Elm Street, Holloween, Darkness Falls, and others that kept us awake at night. I still remember the day when I first watched the series and before I knew I was hooked and I had to watch em all. The previous installment was a well-crafted classic and let's hope Matt and Tyler don't pull a GOT Season 8.