Bernard Arnault Net Worth 2022: Is He the Richest Person in the World?
If you want to know about Bernard Arnault, then you are landing on the right page. In this article, we will explore the Bernard Arnault net worth. How rich is Bernard Arnault in 2022? Here is everything you want to know about his life!
Who is Bernard Arnault?
Bernard Arnault is a French entrepreneur Since 1989 and has led the Louis Vuitton corporation as its chief executive officer. He became the richest man in France and one of the richest people in the world because he is the main stakeholder of the fashion company.
| | |
| --- | --- |
| Name | Bernard Jean Étienne Arnault |
| Birth | March 5, 1949, in Roubaix, France |
| Profession | Chief Executive Officer of LVMH |
| Nationality | French |
| Relationship with | Anne Dewavrin and Hélène Mercier |
| Children | Children 5, including Delphine and Antoine Arnault |
Early Life and Education of Bernard Arnault
Bernard Jean Étienne Arnault was born in Roubaix, France on March 5, 1949. His mother, Marie-Josèphe Savinel, was a fan of Dior. His father, Jean Léon Arnaul is the owner of civil engineer Ferret-Savine company.
Arnault attended both the Lycée Faidherbe in Lille and the Lycée Maxence Van Der Meersch in Roubaix for his education.
Bernard Arnault's Career
Career Bernard joined his father's firm after receiving his college degree, and he had plans for it to grow and get engaged in other, more lucrative ventures.
His first business move was to persuade his father to dissolve the construction section so he could profit from it. After the construction company was shut down, the family started making successful real estate investments.
Bernard was fast climbing up the corporate ladder and held the positions of director of development in 1974, CEO in 1977, and president in 1979, surpassing his father.
The family was forcibly relocated to America in 1981 by the French Socialists, yet even there they thrived by expanding their real estate to the US.
When the company Boussac Saint-Frères filed for bankruptcy in 1983, Arnault saw a perfect chance to grow into the textile sector.
Antoine Bernheim, a managing partner at Lazard Fréres, helped him finance Boussac.
Arnault sold most of the company's holdings, preserving only Christian Dior and Le Bon Marché. 1985: He became Dior's CEO.
Arnault joined LVMH in 1987 with Guinness PLC.
Over the next five years, he would invest and increase his shareholding. When he bought 43.5% of the company in 1989, he replaced the average employees with ones who met his criteria.
He bought "Guerlain," "Marc Jacobs," "Sephora," and others to collaborate and create new businesses.
Bernard Arnault Net Worth
As of 2022, Bernard Arnault has an estimated net worth of $150.3 billion.
He is listed as the second-richest person in the world by Forbes, but his position routinely shifts between first, second, and third.
What is Bernard Arnault's Annual Salary?
Several estimates estimate Bernard Arnault's yearly income to be just over $9 million. However, with a 40.1 percent share in LVHM, Arnault's ownership of the business accounts for the majority of his wealth.
As a result, even though his annual income may only be about $9 million on paper, his wealth is increasing substantially thanks mostly to asset appreciation and capital gains.
Despite this, we nonetheless want to give you an idea of Bernard Arnault's fictitious (but highly probable) yearly income. yearly income that will be determined by his $206 billion net worth alone. Therefore, our metric below will provide you with a ballpark figure if you've ever wondered how much Bernard Arnault makes per day, per month, or even per year.
In order to give you this figure, it is believed that Arnault is an astute investor with a combined net worth of $206 billion who can generate a 4.5 percent yield annually.
Therefore, his annual earnings would be approximately $9.27 billion if he theoretically sold his holdings in LVHM and moved them into a few solid, safe, dividend-paying equities with a modest 4.5 percent yield.
Bernard Arnault's Married Life
Bernard married Anne Dewavrin in 1973 and had two children Delphine and Antoine. The couple split up in 1990.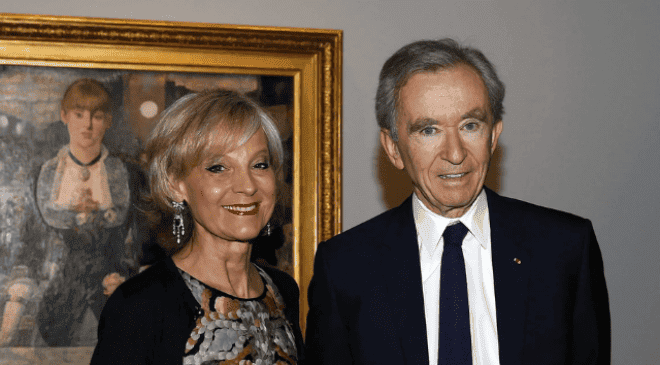 He married Canadian concert pianist Hélène Mercier in 1991, and the couple went on to have three children: Alexandre, Frédéric, and Jean. Paris is the home of Mercier and Arnault.
Along with his niece Stephanie Watine Arnault, all five of Arnault's children—Delphine, Antoine, Alexandre, Frédéric, and Jean—have formal positions in businesses that he owns or controls.
Frequently Asked Questions
How is Bernard Arnault so wealthy?
The majority of Arnault's wealth comes from his 97.5 percent ownership of the opulent fashion house Christian Dior.
Does Bernard Arnault own Gucci?
Gucci Group – 1999 It was made known to the public that LVMH had purchased a 5% share in Gucci on January 6, 1999. Bernard Arnault, head of LVMH, insisted that it was a passive share and that he had every intention of allowing Gucci to maintain its independence. By January 26, 1999, Arnault had expanded LVMH's ownership to 34.4 percent.
Did Bernard Arnault invent Louis Vuitton?
In the process, he gave Christian Dior fresh life as the foundation of the new company. In 1989, Mr. Arnault acquired a majority stake in LVMH Mot Hennessy – Louis Vuitton, forming the largest luxury goods conglomerate in the world.