Rick and Morty Season 7 Release Date: Fans' affections have been won over by the animated science fiction sitcom "Rick and Morty," which was developed by Justin Roiland and Dan Harmon.
The show is known for its offbeat characters, convoluted storylines, and clever humor. Let's look into what we know about "Rick and Morty" Season 7 while fans eagerly anticipate the next episode of the series.
Rick and Morty Season 7 Release Date
Fans will love this! Rick and Morty's seventh season is about to start on October 15 on Adult Swim. Fans have been waiting a long time for the return of Rick and Morty's adventures in other dimensions.
Read More: The Outlaws Season 3: What Fans Can Expect – Release Date and Beyond!
For people in the UK, the excitement is doubled because new episodes of the popular show will be shown first on E4 and All4 and then on Netflix at a later date. So mark your calendars and get ready for another wild ride with the dynamic duo as they dive headfirst into new areas of comedy, science fiction, and nonsense.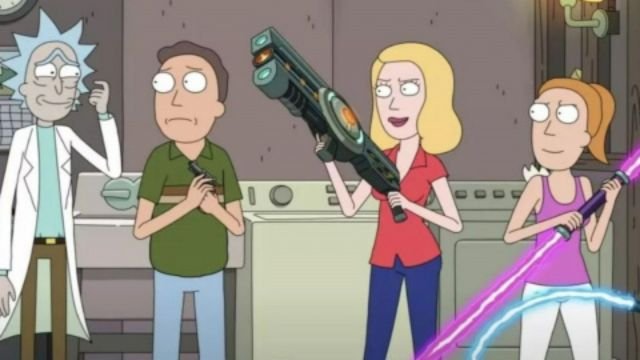 Rick and Morty Season 7 Cast
You can count on the main cast of Rick and Morty to return for the seventh season, but this time you won't hear co-creator Justin Roiland providing the voices for Rick and Morty.
Read More: Fast Foodies Season 3 Release Date: Get to Know the Cast, Trailer, and More Information!
Peep Show cast members David Mitchell, Robert Webb, and Matt King, together with Peter Dinklage, Lisa Kudrow, Paul Giamatti, Jack Black, and Daniel Radcliffe appeared as guest appearances in season 6.
The following is a list of the main characters that appear in Rick and Morty:
Sarah Chalke as Beth Smith and Space Beth
Chris Parnell as Jerry Smith
TBC as Rick Sanchez and Morty Smith
Spencer Grammer as Summer Smith
What Could Happen in Rick and Morty Season 7?
The animated series "Rick and Morty" is well-known for its convoluted and unpredictable storylines, which frequently investigate topics such as multiverse theory, time travel, and existential concerns.
Read More: A Perfect Story Season 2 Release Date: What Will Be the Plot of This Show?
The conclusion of Season 6 left a number of unresolved storylines, which means that Season 7 will have the opportunity to explore a wide variety of potential outcomes.
Fans can anticipate a story that contains a healthy dose of humor, heart, and mind-bending experiences. This may take the form of further exploration of the Citadel of Ricks, the discovery of new interstellar threats, or an investigation into the connections that exist within the Smith family.
Rick and Morty Season 7 Trailer
There is not yet an official trailer available for Season 7. The producers are notorious for keeping fans in the dark about specifics until they are ready to give them a sneak peek into the next season of the show. Fans can pass the time by rewatching previous seasons and engaging in fan theories until then.
Where Can I Watch Rick and Morty?
It has been confirmed that the science fiction-themed animated sitcom will premiere its seventh season on Sunday, October 15, 2023, in the United States. That's Monday, October 16 Down Under, which means things start to get interesting in your Netflix queue on that day.
Rick and Morty IMDB Rating
Throughout the entirety of its run, the show has always managed to keep a high rating on IMDB. "Rick and Morty" garnered a rating of 9.1 out of 10 on IMDB as of my most recent information update in September of 2021, which is a tribute to the show's ability to appeal to a large audience and deliver innovative stories. However, the Internet Movie Database (IMDB) and other reputable sources are where you should look for the most recent information.
Conclusion
"Rick and Morty" is now a well-known cultural phenomenon. Its unique mix of science fiction, humor, and emotional depth keeps people watching. We can't wait for Season 7 to come out, but the fact that we don't know much about it makes us even more excited.
With its talented cast, complicated plots, and creative writing, the next season is sure to take fans on another wild ride through the multiverse, making them eagerly wait for each new episode.
Until then, let's keep guessing, theorizing, and enjoying the shows that have made "Rick and Morty" such a great animated show.