Are You the One Season 4 : Here Are the Insights for the Die-hard Fans!!
Season 4 of Are You The One is still the talk of the town, despite the fact that it aired in 2016 on MTV. Several fans, including myself, believe that Are You The One's fourth season was its best.
Many people have started rewatching Are You The One season 4 because the fourth season is currently available on Netflix. Season 4 of Are You The One was a roller coaster of a ride! However, the ultimate goal of the season was for each contestant to meet their soul mate. There were some delays, but the final match ceremony allowed us to see each contestant and his or her match in person.
Also Read Stand-up Comedian Bob Saget Net Worth, Wife, Relationships, and Many More!
So, do you want to know who won Are You The One season 4? No need to be alarmed! The full schedule for Are You The One season 4 matches can be found down below.
What Has Happened to the Are You the One Season 4 Cast?
A matchmaking algorithm is used to pair up the 'Are You The One?' contestants. While the pairings are kept a secret, contestants must guess their matches based on interactions and dates in order to win. If everyone correctly guesses, the entire cast could win up to $1 million. However, each incorrect guess reduces the total prize money. The post-production lives of reality stars are always interesting to see, so we decided to dig in and see where the season 4 cast is currently at.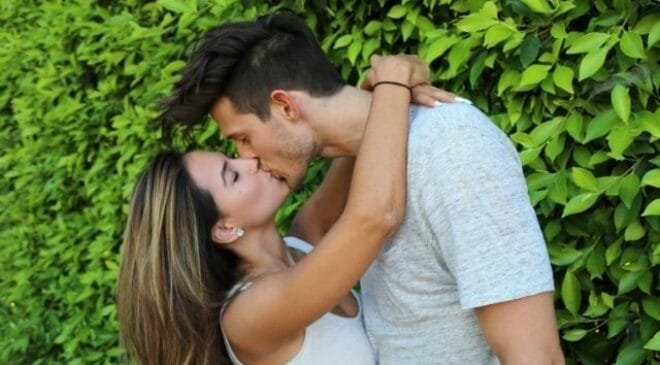 Mikala Thomas and Cameron Kolbo
As soon as Cameron and Mikala met, they knew they were meant to be together. According to reports, they were the first-confirmed match in the history of the show and had a great season together. In order to give their relationship a chance, the couple moved in together after the filming ended. They appeared on 'Are You The One: Second Chances,' but by early 2017 it appeared that the pair had split up.
As of right now, Cameron appears to be having a great time on the road and living life to the fullest. On the other hand, social media star Mikala enjoys revealing details of her personal life to her adoring followers. She is also happily married to Joe Torgerson, with whom she shares a wonderful life. In August of 2020, the couple announced their engagement to each other after keeping it a secret for some time.
Sam Handler & Alyssa Ortiz
Shortly after the start of the fourth season, Sam and Alyssa became close. Despite the fact that they didn't begin dating until week 6, they appeared to be a promising couple. The rumours about Sam and Alyssa's compatibility were confirmed in week six when they discovered they were indeed a match made in heaven. But their relationship began to deteriorate even after they had moved into the honeymoon suite. As a result of their time together, they realised they weren't meant to be together.
Also Read: Fox Tv Series The Cleaning Lady Season Two? Has the Been Cancelled or Renewed Yet?
Alyssa has a wonderful life and works as a producer for Salvi Media at the present time. Kevin Melaniphy, with whom she is reportedly involved, moved to Los Angeles in the fall of 2021. Nonetheless, Sam prefers to maintain a low-key social media presence. With no recent reports on his whereabouts, it's hard to know where he is.
Other members of the cast
Despite the fact that Tori Deal and Morgan St. Pierre weren't meant to be together, they developed a close bond during their time on the show and appeared to have a promising future.
After the movie was shot, there were rumours that Tori began seeing other people. Despite the fact that they reconnected on 'Are You the One: Second Chances,' their romance waned.
Afterward, Morgan went on to found his own clothing and jewellery company. Tori, on the other hand, has started a podcast called "Tori Dealing With," a children's book called "The Adventures of Bumble Pea and Koala Pear: The Search for Syrup," and even a self-care organisation called "Suiheart Club.".
After the filming was completed, Stephen McHugh and Julia Rose appeared to have formed a romantic relationship. The two, however, ran into difficulties very quickly and had to part ways.
Since starting Shagmag, an online publication with Julia, Stephen has decided to keep a low profile on social media platforms.
'Are You the One?' made Asaf Goren a reality TV star, while Giovanni Rivera became a professional boxer after his appearance on the show
Read more: Bridgerton Season 2 Release Date, Trailer, Cast: Updates You Need to Know!
This season's two surviving male Dancing With The Stars participants Tyler Norman and John Humphrey are unsure of what they are doing right now.
Social media influencer Kaylen Zahara and vocalist Francesca Duncan are both well-known in their respective fields.
For Nicole Brown, time with her family and social media are important aspects of her life. However, Victoria Wyatt and Camille Satterwhite have chosen anonymity and have made every effort to keep their identities hidden.
FAQs
Is there anyone left over from season 4 here?
In the fourth season, Julia and Stephen are still together. Even after Stephen's affair with Season 5 cast member Hannah, the two decided to stick it out. They appear to have broken up.
Is the game rigged against you?
Tyler O'Brien also expressed his suspicions about the show's fairness. According to him, "we were enticed onto the show by the notion that we were in the running for an enormous sum of cash." A total and complete fabrication of the show was made."
Does Are You The One really takes place over the course of 10 weeks?
Before and after each match-up ceremony, how much time do the contestants have to interact with each other Six weeks into filming, there are 10 match-up ceremonies, but the production schedule doesn't necessarily mean that there is one every four days.