Google Nest vs Amazon Thermostat- Which One Should You Buy?
The Nest and Amazon Smart Thermostat are currently two of the best thermostats available on the market today. In this article, we'll walk you step by step through our analysis of two gadgets at the same time springing our insights on who champions the best design, compatibility, adjustments, voice assistant, and of course, Price.
When it comes to features, Amazon Smart Thermostat and Nest don't share big differences. However, they are distinct, and differences play a trivial role. To sum it all up the article focuses on 'amazon Smart thermostat vs google Nest'.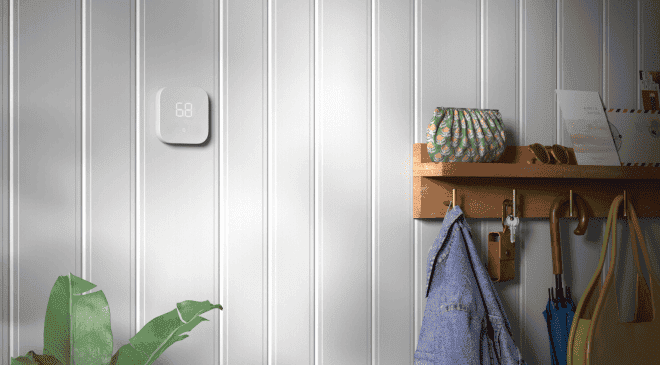 Google Nest vs Amazon Thermostat: What's Different?
Amazon Thermostat is a great bargain for an Alexa-powered thermostat, but Google's Nest Thermostat is time-tested and reliable. Check out the differences between them.
1. Look and Feel
Nest: The Nest thermostats feature a modernized classic Honeywell Round look. The Design boasts of an external steel ring that compliments your wall color and will look stunning with any decor. The surface lit up with the blue light for cooling and orange while warming up. You can notice its solid construction just by the look of it, Nest is quite heavy and robust.
Amazon Smart Thermostat: Amazon Smart Thermostat opted for a rectangular design somewhat like that of primitive thermostats. Amazon Smart thermostat has rounded corners and kind of resembles an enormous smartwatch in appearance. The gadget claims to be a collaboration between Amazon and Resideo (Honeywell Home), as some of Honeywell's devices, which are also low-cost smart thermostats, look strikingly similar. In terms of size, the Amazon Smart thermostat measures 3.6 x 3.6 x 0.8 inches and is quite larger than Nest Thermostat but smaller than that of the Ecobee models.
It is only available in white, so it has a clean aesthetic. However, if you have dark walls, they may stick out.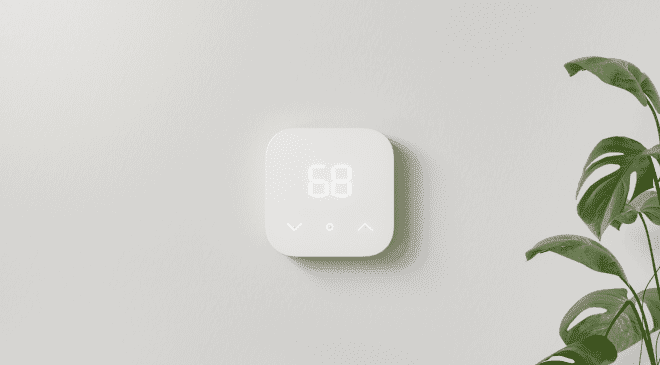 2. Voice Control
Voice Control is hands down the best way to interact with any of your smart devices, and the same goes for thermostats too. Supporting a voice control feature makes it much easy lower or elevate the temperature according to your needs and preferences. All it needs is the magic word.
Amazon Smart Thermostat:  There is no in-built speaker or microphone on the Amazon Smart Thermostat. The Alexa app or an Echo (available separately) can be used for voice control if your device is Alexa-enable. Use the compatibility checker to make sure the thermostat will function in your house before you buy it. Power adapters and C-wires are required for Amazon Smart Thermostat. The Alexa app comes with step-by-by-step installation instructions.
Nest: Nest on the other hand support both Amazon Alexa and Google Home. However, The Nest doesn't bode well with Apple HomeKit and it's highly that it ever will. but keep rooting and who knows maybe it does in the years to come.
3. Geofencing
The majority of smart home gadgets utilize your smartphone's GPS to know that whether you're at work or unwinding at home. This is called geofencing. When you leave your house and exceed the geofence, the thermostat will set into away status. On your journey back home, if you pass the geofence again, the thermostat will begin heating/cooling as normal. Amazon had named this feature as 'Hunch Feature'.
Nest: Nest geofencing feature is embedded right into its app. You can also create numerous geofencing accounts to work with multiple smartphones. To detect whether you're at home or otherwise, it uses a combination of geofencing and signals from other Google Nest devices. Also, the Nest motion sensors will sense any motion in your house.
Amazon Smart Thermostat: The device's concept is to require as minimal programming from the user as possible by utilizing the already-existing Amazon/Alexa home environment. As a result, the "Hunch" feature on the Energy Star device will recognize when you leave the house or go to bed, and it will change the temperature to match. If you'd rather, you can use an Amazon-connected device to make changes directly from there.
Final Thoughts
Google's Nest and Amazon Smart Thermostat don't dwell far in the matter of cost. Google has launched a new Nest thermostat that is priced at $129 while the cost of Amazon Smart Thermostat is way less than that of the Nest thermostats. As of now, the Amazon Smart thermostat costs $59.